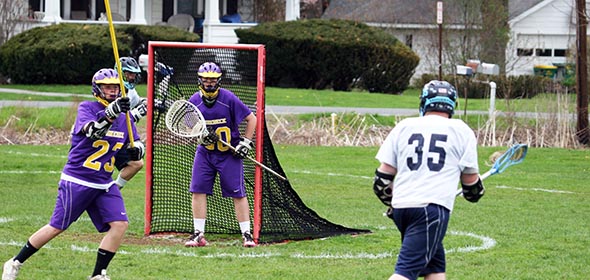 Saugerties lacrosse isn't what it used to be; Rhinebeck lacrosse is trying to figure out what it wants to be. Both teams, despite their identity crises, gave it everything in their May 2 game, but the Sawyers came out on top with an 8-5 non-divisional victory.
Early on, Rhinebeck managed to keep the score tight, playing sticky defense and hanging in with a Saugerties defense that was more than a little chippy. Saugerties' Kyle Quinn was called for multiple illegal hits throughout the game, and within the first 10 minutes of play, Mike Flanagan was blown away by the Sawyers goalie.
Roan Gideon, Rhinebeck's go-to guy on offense, had the Hawks' first bucket after four minutes of play, going one on three and taking the ball to the hole. Gideon had three of Rhinebeck's five points on the night. Saugerties' attacker Darius Edwards, however, managed to score a quick two goals on Rhinebeck keeper Andrew Spears in the top of the second quarter. Spears, lately, has been playing lights out between the posts: in Rhinebeck's 14-4 loss to Red Hook on April 30, Spears had 31 saves, and against Saugerties, he tallied 10.
"He's kept us in games," Rhinebeck head coach Jan Bonanza said of Spears. "He's kept us in lots of games. That game yesterday, especially."
"You know, we went out against Red Hook, our arch-rivals, hoping to get another step to Sectionals. We couldn't get the win, but I guess I had a good game," said Spears. "We have a hockey goalie on the team, and we were talking about what it's like to be in the zone. It's kind of different from any other players, who say 'I was in the zone, I had four goals.' You don't really think, you don't really remember a lot of things – you just do it."
Spears can't do everything for the Hawks, though. And what he can't do, Gideon tries to make up for. Gideon, who had nine ground balls on the game, helped keep Rhinebeck in the match after falling behind 5-2 going into the half. After Rhinebeck's Jake Bennett scored a goal early in the third quarter to make it 6-3, Gideon made a top-notch hustle play: he lost the ball close to the out-of-bounds line, bounded up, knocked the ball out of the hands of the midfielder who picked it up, and got the goal. He was followed almost immediately by a goal from Rhinebeck's Mike Flanagan, which brought the score to 7-5 and put Rhinebeck within striking range.
Unfortunately, Rhinebeck couldn't mount a comeback. In the final minutes, Spears stopped three Saugerties shots, but allowed one in, and the Hawks went home with an 8-5 loss.
"We kept it pretty tight. The kids really picked it up. We've got some things to tighten up. We've got to keep our focus and move better with our feet. We need to do a better job with our passes — it's just the little things. It's the little things that help you win the game, and I keep preaching that to them," said Bonanza.
Facebook Comments