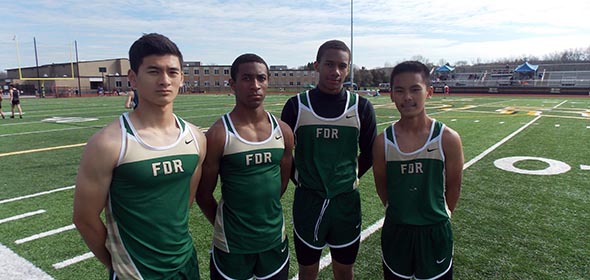 While everyone at FDR High is elated to have a new track — "We used to have to work on gravel, it was like cat litter," said FDR runner Joe McKeon — it all comes down to the brass tacks: the Presidents boys team came in second overall with a combined score of 117, falling behind New Paltz, which had a combined score of 137, at May 3's all-day inaugural "Race at the Oval Office" meet.
The FDR girls came in sixth with a combined score of 50.
The FDR teams finished their first home meet with five first-place finishes, all on the boys side. Bovin Odhiambo was the FDR standout, winning the 100m with a time of 11.2, the 200m with a 23.2, and helping the FDR 4x100m team win the top spot with a time of 45.9. McKeon won the pole vault with a vault of 19',15". Myles Clark came in first place in the 400m hurdles with a time of 50.8.
The Presidents had plenty of other high finishes as well. The boys single medley relay team came in second with a time of 3:56.1, and second in the distance medley relay with a time of 11:58.8. Clark came in third in the 100m hurdles with a time of 15.4. The boys 4×800 relay team came in third, with a time of 9:06.2, and the boys 4×400 relay came in second with a time of 3:35.3. James Schaller tied for second behind FDR's Clark in pole vault, with a mark of 18',11.5". McKeon also placed second in the triple jump, with a jump of 40',1".
FDR's Sarah Pruner came in fourth in the girls 200m with a time of 29.1. Kayla Kiernan came in second in the 400m with a time of 66.6, and Jasmine Noonan placed third in the long jump with a mark of 12'8.75". Kiernan and Noonan were the FDR girls' only top three finishers of the meet.
FDR track head coach Brian Halling was calling the shots from on high, through a headset in FDR's track box. Even though the home teams aren't the incumbent champions at the Oval Office for the time being, Halling was buoyant.
"It's awesome, it's cool to see," Halling told the Observer. "I was here four years ago and we had a cinder track. Just to look at the track, to watch how the work has paid off for the community, the parents, the kids – and then to have an event where 13 teams sign up. I want to thank the other teams for coming out and supporting us, the MHAL teams coming out for our first event."
Halling said that his teams have come very far since 2013.
"The girls grew really far from last year. We didn't win a single match last year. We have a very young team, we're 3-3 and doing very well. Definitely a lot of growth there," he said. "And the boys: from 13th to ninth to fourth to second in the MHAL. We were undefeated last year. Just ridiculous growth from the team, and we're so benefitting from this facility and the community support."
Then he added, "I have the best kids in the school. … I couldn't be more proud of my kids."
Facebook Comments