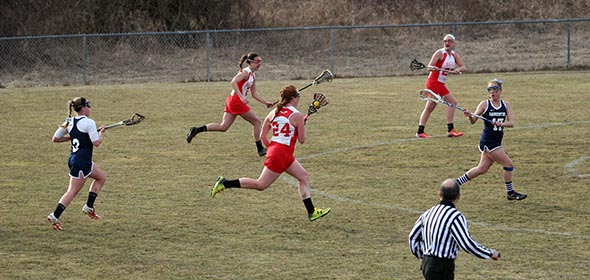 Red Hook's best team is currently girls lacrosse. Under the direction of Yvonne Turchetti, the Lady Raiders have cruised to a 6-0 record, and won five out of six by a margin of more than 10 points.
They collected their sixth win of the season with a 17-1 win on the road against Highland on April 28. The Lady Raiders held the Huskies to one goal halfway through the second half, when an errant shot bounced off a Red Hook stick and got into the net. The net was minded by Shelby Wilcox, the Red Hook goalie who doesn't have too much to worry about on a team with an offense that controls the ball exceptionally well and a defense that puts plays to bed before they get a chance to start.
"I mean, I don't get bored," Wilcox told the Observer about playing keep on an offense-centric team. "It's always good to have an offense that can take care of you. I also have a strong defense in front of me, so they help that a lot. I just try to keep focused, try to talk to my attack if they can't see anything."
Red Hook, a team that scores in volume, didn't waste any time against the Huskies. Erica Mansfield was on the board within the first minute and a half of play, scoring a layup for the Lady Raiders' first bucket. While it wasn't a come-from-behind win, there was a lot of come-from-behind scoring: Red Hook had the Huskies vexed on the crease, as a third of the Lady Raiders' goals came on assists from behind the pipes or drives into the center.
It didn't help the Huskies' case that they couldn't get a ball past midfield through the entire first half without it touching the ground. Red Hook's Lindsay Hobson, who recently celebrated her 100th goal for Red Hook, went top shelf on Highland's goalie to put the Raiders up 10-0 right before halftime, which invoked the girls lacrosse mercy rule, by which the clock starts running uninterrupted when a team is up by 10 points.
Red Hook piled on another seven goals in the second half to go home with the win over Highland, a non-divisional opponent. Hobson led all scorers in the game with seven points, and led in assists with four. Ciara Burud also flushed four goals. Wilcox faced two shots on goal for the whole game.
"In general, we're doing a good job of seeing each other, seeing the open man, moving the ball. We dropped a few too many today, but we're being persistent with not so much running the offense but at least rotating. The offense is doing a good job of cutting and getting open," Turchetti told the Observer after the game.
Red Hook is now beginning their second round of regional play, including games against Saugerties, Goshen, and New Paltz.
"We're doing okay," said Turchetti. "Some days we look better than others. There are some things we need to work on, but overall, I think our energy level is really good."
Facebook Comments