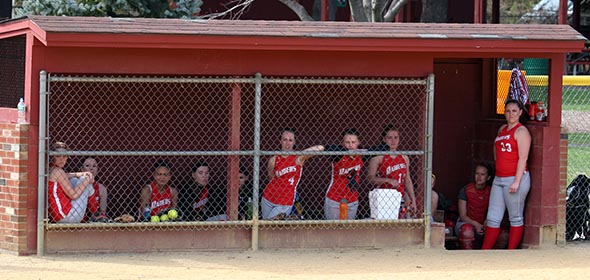 Red Hook softball is off to a rough start.
After losing their opening-stretch games to Rondout Valley, New Paltz, Wallkill, and FDR, the Raiders played host to Duanesburg, Rhinebeck, Port Jervis, Arlington, Marlboro, Cornwall and Taconic Hills in the annual Red Hook Softball Invitational tournament, and dropped their tourney opener against Port Jervis, 9-2, on April 25.
The tournament is a point of pride for Red Hook softball head coach Tom Gilbert.
"There was a few years back, where … it was [called] the best tournament, and the best-run tournament, in the Hudson Valley. We've been really fortunate to have great teams there, and good games," he told the Observer.
Early on, though, Red Hook looked to be in good form. After pitching her way into a jam and letting three on base in the top of the first, Red Hook pitcher Jessica Osterhoudt escaped the inning with no runs scored on a pop-fly out. In the bottom of the second, though, when Red Hook batters went three up, three down, it was apparent that the Lady Raiders didn't bring much pop with them to the ballfield.
Jervis grabbed their first run in the top of the third, on a botched play at first that let in a Jervis runner from third base. They took Red Hook on a hit parade between the second and fifth innings, but only began to pile on the runs in the top of the sixth.
Then Osterhoudt let three runners on base before Red Hook registered a single out. A Jervis double with none out pushed in two runs, and was followed by a blooper that settled in left field to bring in Jervis' fifth run; the final score of the side came on a passed ball at home plate to put Jervis up 6-1.
Red Hook's second and final run came in the bottom of the sixth, when Jordan Ball was batted in from third on a single. Gilbert checked in Ally Jerro-Greco for Osterhoudt, but the Jervis bats were still hot. They collected three runs in the final two innings to key Red Hook in the opening round of their own tournament, 9-2.
Gilbert owns up to the fact that 2014 is a building team for the Lady Raiders, who have six sophomores and one senior on their roster.
"The way I really view it is that we are quite the young team. Each game we get, we do something better, we learn something more. This is our season to train all our young athletes and get them ready for next year," said Gilbert. "We're in a situation where we've redefined 'success' to be a learning experience this year, rather than just wins and losses."
Red Hook collected its first win against Rhinebeck, 12-7, in the consolation round of the tournament on April 27.
Rhinebeck hasn't been blowing the season away either, but they've pulled together a respectable record; after a 4-1 win over Dover on May 1, the Lady Hawks are now 6-7.
Facebook Comments