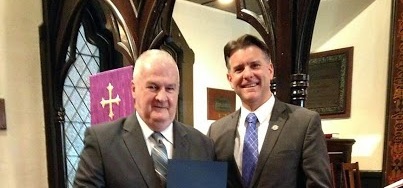 At the Church of St. John the Evangelist in Barrytown, April 6 was a special day for Peter F. Sipperley, long-time church organist, church board president and 14-term Rhinebeck mayor.
State Senator Terry Gipson, an old friend of his, honored him with a legislative resolution adopted by the Senate Finance Committee in recognition of his distinguished service to the church, the state and the country.
"It caught me completely by surprise," Sipperley told the Observer. "Right after the opening hymn, the rector announced there would be a special ceremony and I still had no idea it was for me."
Gipson then read the resolution, which states in part: "… this Legislative Body is justly proud to honor Peter F. Sipperley for his distinguished service to the Church of St. John the Evangelist, the State of New York and the United States of America … He has always modeled servant-hood within his church community and throughout his involvement in public life."
A lifelong Rhinebeck resident, Sipperley was born in 1936 and graduated from Rhinebeck High School in 1953. He fought in the Korean War and upon his return helped run the family's plumbing business. An active church member, he became the church organist in 1956, a position he has held for the last 58 years. In 1973, he became president of St. John the Evangelist's Board of Trustees.
"I was a plumber and steamfitter by trade and never went to college," Sipperley said. He also explained that he grew up in a musical family: his mother was a singer and his aunt was the organist at the Rhinebeck Episcopal Church from 1943 until 1970.
Completely self-taught, he was playing the piano at age four and began to play the church organ at nine. In 1956, his aunt got sick and asked him to take over.
"I did a two-week tryout and was hired at $25 a month in October of 1956, the same week as the Hungarian Revolution," he recalled. "I love the organ and love to play classical music."
Sipperley also served the whole Rhinebeck community. He was elected to the Village Board of Trustees in 1967 and elected Mayor of Rhinebeck two years later, a post he held through 14 terms, until 1997. Then he became Rhinebeck Highway Superintendent until 2006.
"I've been in public service for almost 43 years," Sipperley noted. "I'm kind of a mixture of different things."
A true Renaissance man, and despite two knee replacements, a new hip and open-heart surgery, Sipperley remains very active. He was appointed by Gov. Andrew Cuomo in 2011 to the "Black Car Compensation Fund," a New York City-based committee set up in 1998 by the state legislature to help get 13,000 city chauffeurs comprehensive insurance.
Gipson summed it all up well at the church service April 6: "Peter Sipperley exemplifies the meaning of service and giving back to one's country, state and community."
Facebook Comments