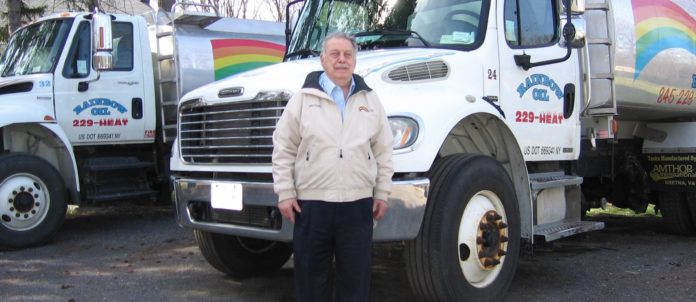 Winter may be over – just barely – but there is no slowing down for Michael Conforti, owner of Rainbow Oil in Hyde Park.
He's grateful to be able to provide heating fuels and other services to residences and businesses in Dutchess, Ulster, and Columbia counties.
"We had another very successful year, even though it was very hard on the customers with the severe cold, and hopefully, next year it won't be quite so bad," Michael said. "Now we're ready to serve them if they need any new replacements as far as a boiler or hot water heater, and we are getting a number of calls."
Upgrades include not only boiler replacements but also the more challenging tank abandonment service, which involves following all the correct procedures in accordance with local and state laws. "It may seem a little overwhelming to some people, but we have years of experience and can replace a dangerous leaking tank with one of a variety we have in stock as easily as any of our other services," Michael assured.
One reason for Michael's dedication to his company and community is that his family has been in Hyde Park since 1928. "I live in the same building that my father built," he said. For many years, Michael ran the popular Rainbow Room restaurant on Route 9G (having started work there at age 14). Then in 1995, he and his brother, Mario, started Rainbow Oil, which they ran together until Mario died in an auto accident in 2004.
Today, Michael very much appreciates the longtime dedication of his Rainbow employees.
"In our office, Lauren Van Steenburgh has been running things for 19 years, along with Anna DiGilio, who's been here 14 years," Michael said. "One driver, Rick, has been with company 15 years; another driver, 12 years. Most of the others have been here 5, 6, 7, or 8 years. They're good to us, and we're good to them."
Rainbow Oil supplies not only fuel oil, but also kerosene and diesel. The fleet of five tankers and three technicians are on call 24/7, including holidays. First-time customers can count on discussing their individual needs directly with Michael, including choice of automatic or call-in delivery and budget plans. Rainbow used to participate in the Fuel Survivors' Club, and now works with the Home Energy Assistance Program (HEAP) that has replaced it; this is a part of Dutchess County's Community Action Partnership (CAP), for families whose low income qualifies them for lower fuel costs, automatic delivery, monthly budget billing planning, and, in some cases, weatherization upgrades.
"CAP placed a letter of reference on the Rainbow website testimonials page," Michael explained. "I really appreciated that, but I didn't expect it. It only seems right to help out if we can."
Listening to Michael on the phone with one of the many Rainbow customers, it is obvious that he has been committed to personalized service for a long time.
"I appreciate our customer base, and I would like to continue building upon it. I want to give our customers the best personal service," he said. "I have the utmost faith in people."
Rainbow Oil
5 Pine Woods Road, Hyde Park
Office hours: Monday – Friday 8am-5pm
845-229-9418 www.rainbowoil.net info@rainbowoil.net
Facebook Comments