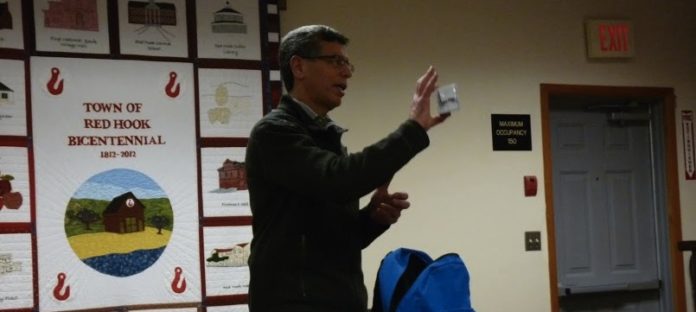 A recent state emergency response training program focused on preparing households for disasters, and a dedicated Red Hook volunteer brought back a report to share with the town.
Newly appointed disaster preparedness committee chair Dr. Vincent Coluccio gave a presentation to the Red Hook town board in February on the highlights and recommendations from a state-sponsored training program held in Rockland County.
Coluccio, a three-year member of the disaster preparedness committee, said the goal of the training program was to "provide New Yorkers with the tools and resources to prepare for emergencies and disasters, to respond accordingly and to recover as quickly as possible to pre-disaster conditions."
Gov. Andrew Cuomo, who attended the forum, "indicated that Hurricane Irene provided the impetus for this program and that severe weather events are becoming more frequent and extreme," Coluccio said. Compared to the rest of the country, he added, New York State is "off the charts" in terms of potential for disasters, because of its dense population centers, coastal exposure and nuclear power plants.
"This is the reason why we are now being required to become more diligent in responding to these disasters we hope will never happen," Coluccio said.
He said the training program was specifically designed to provide guidance to heads of households on being self-sufficient for the first seven to 10 days of an emergency. This is so that residents will be able to handle things on their own if it takes time for emergency responders to mobilize.
An essential theme highlighted by the governor was how heightened awareness and preparedness within a community not only benefits the people that are prepared, but also benefits everyone else, Coluccio said.
"What it basically does is allow responders to get to the people in critical need of a response and gives the responders the opportunity to address critical issues like … damaged bridges, roads and electrical systems," he said.
Coluccio said the role of households in an emergency was also underscored by the governor.
At one point, Cuomo asked the audience who the first responders are in a disaster. "You could see the audience scratch their heads," Coluccio recalled. "[Then Cuomo said,] 'You are the first responders! The heads of households are the first responders.'"
Coluccio listed some of the most important topics covered during the two-hour session. They included development of family emergency plans and emergency supplies, preparation of homes for emergencies, and specific guidance for helping senior citizens at such times.
Many of the topics are addressed in a 10-page "Guide for Personal and Family Preparedness," which the committee created with the sponsorship of the Senior Services Committee. It is available on the Senior Services page of the town's website.
Red Hook's 11-member Disaster Preparedness Committee, formed in 2011, meets about once a month to discuss emergency preparedness issues.
To access the state's full list of emergency procedures for households, go to the state's website at: www.nyprepare.gov.
Facebook Comments