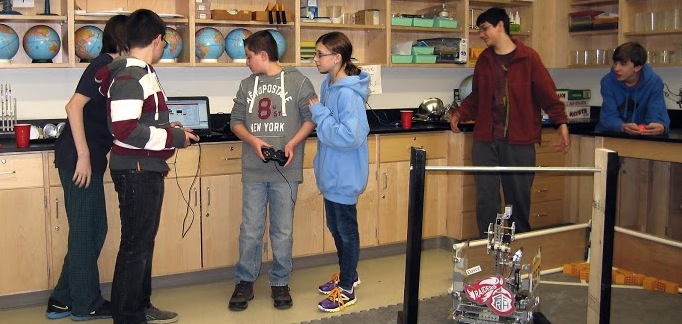 A dedicated group of 11 students in Room 164 of Red Hook High School seems determined to bring everyone up to speed on this century's technology, and even younger students at the Linden Avenue Middle School are closely following their lead.
Yvonne Pierce, an earth science, astronomy and chemistry teacher, is the founder and mentor of the Red Hook RoboRaiders team at the high school, which is the only public high school in Northern Dutchess County with a robotics team.
The team, a volunteer group of students who gather after school, is now in its first year. In the space of only four months, they have already created a working robot called Davey made entirely of metallic Lego pieces.
It was a fun learning experience for everyone involved, Pierce admitted, "I have no engineering or programming background, so I had to learn everything from scratch. Sometimes we just have to roll up our sleeves and figure it out."
She added that two former IBM engineers also volunteered their time to the RoboRaiders to assist in the programming for creating Davey.
"It's all hands-on, creative, and learning by doing," said Pierce of the robotics experience. "It's designed to be a realistic, real-life engineering project, including budget constraints, time constraints, personnel issues."
The RoboRaiders agreed with her. Said David Knag, 10th grader and president of the team, "It has shown me what it is like to build like an engineer and to think like a programmer."
Alex Gruber, a 12th grader who will be studying engineering next year at Rochester Institute of Technology, added, "Finally, all the years of obsessively playing video games has paid off: driving the robots is fun!"
In order to build the 18 inch-high robot and put it through its paces at their first tournament last January, the RoboRaiders became members of the nonprofit organization FIRST (For Inspiration and Recognition of Science and Technology) Tech Challenge, which releases a themed "game" each August and mails parts and instructions to all member teams. This year's theme was "Nature's Fury," and the RoboRaiders' project was "Surviving a Tsunami."
In addition to the challenge of building Davey, the students were required to keep an engineering journal; participate in interviews with a panel of judges; and document community service, team spirit, and "gracious professionalism." For their efforts, the RoboRaiders came in fifth out of 12 teams.
Steven Hughes, the high school's engineering teacher, also teaches technology at the middle school, where he said his team of 11 students are definitely hooked on robotics. At a recent meeting of the RoboRaiders, Hughes brought a contingent of the middle school's Lego League over to observe Davey in action and take part.
Davey got applause and cheers upon successfully moving a quantity of Lego blocks from one designated point to another and also for raising a flag up a PVC pole by maneuvering a flywheel in approximately three minutes.
Sixth grader Jacqueline Kocik said, "I think it's really fun and exciting. At competitions, it's always fun to see other people's ideas. I'm excited about coming to the high school and doing robotics here."
Jack Marcotte, a seventh grader, added, "I think it teaches us good teamwork and problem-solving."
Financial support for the team's membership in FIRST, which gives them the games, equipment for robot building, and travel for competitions, comes from a variety of sources outside the school district budget. Local donors include Williams Lumber, the Red Hook Education Foundation, the Red Hook Parent/Teacher/Student Association (PTSA), the Community Foundation of Dutchess County, and the Grand Dutchess B&B in Red Hook.
For further information on how to support the RoboRaiders, contact Yvonne Pierce (ypierce@rhcsd.org).
Facebook Comments