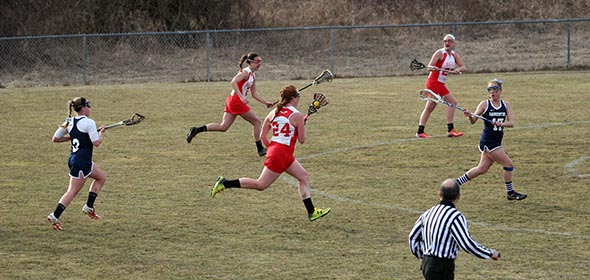 The best team in Red Hook this spring is, by far, Lady Raiders girls lacrosse.
The team topped Burke Catholic, 9-5, on the road May 14 to grab a perfect 15-0 record for the season. A slew of those wins were made with a margin of at least 10 goals.
The Burke Catholic Eagles, though, didn't make the perfect season easy for Red Hook.
The Eagles actually had the first good scoring look after stopping Red Hook on a drive, but the Red Hook defense gagged it 20 feet from the goal and Ciara Burud took the ball full field for a tight-angle goal and Red Hook's first point at 23:42.
Burud, the youngest 100-goal scorer in Red Hook history, has been pulling much of the weight lately, and had six of the Lady Raiders' nine goals in the game.
Most of the scoring action was done in the first half: Burud had five of her six in the first half, and Red Hook's Marist Parr, not wanting it to be a one-woman show, went three-quarters field with 9:10 left on the clock for a bucket. She followed that up with a layup with 3:55, and barely missed a hat trick with a minute left on the clock.
The Red Hook scoring pace slowed to a dribble in the second half, and Burke was in control of the offense, hanging with Red Hook and scoring two buckets to Red's two. The Eagles scored after a minutes-long possession at 13:55 to make it 8-4, forcing a timeout from Red head coach Yvonne Turchetti.
Burud finally got another bucket with :55 left, on an assist from Parr, to put Red Hook up 9-4, and Burke answered with another goal.
If it all felt rather anticlimactic, there's a reason for that: Red Hook and Burke are likely to face off in the upcoming Section 9, Class C finals, which start in Red Hook May 22.
In addition to Burud, Lady Raiders goalie, Shelby Wilcox, made huge stops throughout the game, including a fast break stop at the opening of the game and an athletic pair of stops with :45 to go in the first quarter. Wilcox, who has acted as an anchor for Red Hook this year, was happy with the win.
"It was just a fun game to play, one of our closer games. This season's been great, everyone's brought 100 percent to almost every game," said Wilcox.
Turchetti echoed her thoughts. "I'm tremendously proud of the girls. We played through our schedule and were successful in every game, and we've never done that. It's a credit to them and the work we've put in this season, and how hard they work for each other," she said.
The coach was understandably a little more cautious discussing postseason and Red Hook's chances beyond sectionals.
"Right now, I'm focused on sectionals. We're going to be playing a Burke or Millbrook team that we both beat during the regular season, but that means nothing come the postseason. We know that from our experience in the past three years — two out of our past three finals were against Burke, and they were closer than they normally would be. The postseason is a whole new world," she said.
A win for Red Hook in regional play, assuming a sectional title, would be the first such victory for a Red Hook lacrosse team – boys or girls – since either program's inception.
Facebook Comments