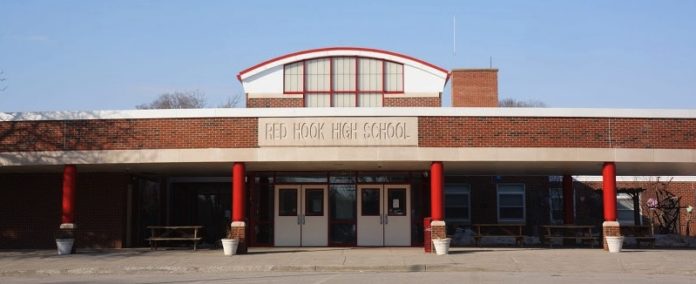 Student opt outs on the recent statewide Common Core tests increased in both Red Hook and Rhinebeck, at 10 percent and 3.74 percent respectively, according to district numbers.
The English and math tests, given to students in grades 3-8 each spring, have been going on for years as part of the No Child Left Behind policy, but they recently became a target of widespread protests over the state's roll-out of the new learning standards.
The state education department has indicated that opt outs are a relatively small portion of the total student body, but as the numbers grow, so do administrator concerns about the consequences of so many refusals.
Rhinebeck's test refusal numbers are low, but they increased markedly from last year. In 2013, only two seventh graders refused tests; this year, 14 students in all third through eighth grades (2.76 percent) refused the English Language Arts (ELA) exam, held April 2-4, and 24 (4.7 percent) refused the math, which was held April 30-May 2. Of those, 8 ELA opt outs and 17 math opt outs were Bulkeley Middle School students, an average of 4.4 percent in a student body total of 280. That's slightly higher than the overall refusal rate for the district, which was 3.7 percent.
In Red Hook, opt outs increased to 10 percent overall—from 7 percent last year, according to Donna Gaynor, Assistant to the Superintendent for Curriculum. The exact number from last year was not available.
Although the numbers varied throughout the three-day assessment periods for both tests, she said, an average of 61 students (6.6 percent) refused the ELA test and 121 (13.2 percent) refused the math out of a total 917 students.
Local administrators were left to figure out how to handle those who refused the tests because the state provided no clear guidance to school districts.
Rhinebeck Schools Superintendent Joe Phelan said all refusals were provided by parents of students ahead of the testing dates. The district's policy is to allow students to read in an alternative location during the test.
Phelan also attributed the increased refusal numbers this year to "increased media attention to this topic over the past several months."
Red Hook Superintendent Paul Finch said the district also asked parents to tell them if they were directing their child to refuse the tests. Students who opted out could read in an alternate location.
"We were careful not to put the students into the uncomfortable position of having to verbally refuse to take the tests," he said, adding "In my opinion, the students were being unfairly placed in the middle of a disagreement between the State Education Department and an upset group of parents."
The state uses a federal measure of school success, called "Adequate Yearly Progress," or AYP, in which a school district must show that at least 95 percent of its eligible students took Common Core tests over a two-year period.
Finch said if this year's refusal rate gives Red Hook a "non-adequate" progress report, that could have serious consequences, not only in extra paperwork and additional administrator and teacher time, but also in public perception.
"When the state releases data that indicates we have not made adequate yearly progress, the uninformed will assume it has something to do with the quality of our academic program. This could not be further from the truth," he said.
Phelan said even though the middle school rate increased this year, he thought Rhinebeck's AYP would be fine because it was an average of both years. "Our middle school might not have made AYP if the calculation were restricted alone to this year's test takers out of those eligible," he said.
The test results, as well as statewide opt out numbers, are expected sometime this summer.
Facebook Comments