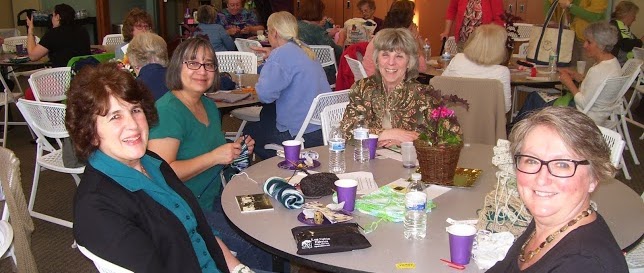 The seventh annual "Eleanor Roosevelt Knit-In" didn't drop a stitch on May 4.
Patsy Costello, president of the Hyde Park Historical Society, which hosted the event, said there were approximately 70 attendees from Dutchess, Ulster and Orange counties, as well as a family from Pittsburgh, Pa.
The group knitted or crocheted acrylic yarn blocks that will be assembled into afghans and donated to U.S. troops, VA hospitals, battered women's shelters, and those in need.
Uri Perrin, Executive Director for the "Eleanor Roosevelt Val-Kill Partnership,"
which was started by former first lady Hillary Clinton as "Save America's Treasures," spoke to the group about her organization and what it continues to do to preserve Val-Kill. A DVD was shown on "The Roosevelt House" which told about the Roosevelts' life, and then the group went to visit the newly renovated FDR Presidential Library and Museum.
"With all the yarn blocks that were made in advance and worked on during the Knit-In, and [10] finished afghans that attendees brought already completed, we will have many afghans to donate to those in need again this year," Costello said, adding that they now need volunteers to help put more yarn blocks together for completed afghans.
Those interested should call or email her at 845-229-2559 or Patsyc97@aol.com.
Facebook Comments