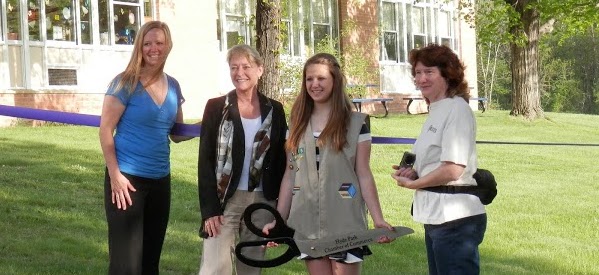 As an array of officials looked on, Taylor VanDeWater, an eighth grader in Girl Scout troop #10215, cut the ribbon for the official opening of a new outdoor classroom at Netherwood Elementary School on May 13.
The project was spearheaded by Taylor, who said she decided to hold an Adopt-a-Bench fundraiser to build the classroom because she had gone to the school. The work was done for her Silver Award project, the highest achievement for a Girl Scout in grade 6-8.
Taylor raised $1,543 to finish the classroom, which is in the courtyard and can seat approximately 60 students. It will be used, according to Netherwood Principal Richard Wert, for a "Reading Theatre" and other story-time activities and lectures.
"To pull something of this magnitude together shows great leadership," Wert observed, adding that he believes Taylor's project will inspire future generations to contribute to the schools and community.
Troop leader Debbie St. Onge, Taylor's family, Schools Superintendent Greer Rychcik, and several Netherwood teachers were also present for the grand opening.
Facebook Comments