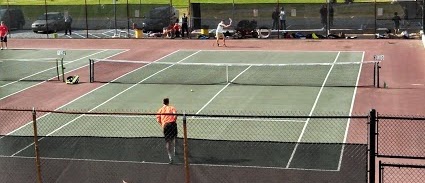 Going into their match against rival Red Hook at the MHAL championships tournament, FDR boys tennis head coach knew his team would have its hands full, even after the Presidents' 3-2 victory over the Red Raiders in their final regular season match on May 8.
"The team is well coached, and they hit out on everything," Coach Bob Mayerhofer said that day.
On Saturday, Red Hook got its revenge on FDR, beating the previously undefeated Presidents 3-2 in the semifinal match. The Red Raiders went on to defeat Onteora to win the team championships. FDR finished the team season with a 10-1 record.
The highlight of the match came in the second singles between FDR's Jay Gohel and Red Hook's Joe Bryant. In a back and forth match that lasted nearly three hours, Bryant edged the previously undefeated Gohel, 7-6 (7-5), 6-7 (4-7), 7-6 (8-6).
Dan Considine won the third singles match for FDR, while brothers Al and Linsky Lundy earned the second doubles victory.
While FDR came up short in the team competition, several individual players enjoyed solid matches.
Gohel defeated Marlboro's Chris Jaros in the first round (6-2, 6-1), and in the semifinals, beat Highland's Dharshan Rammohan 6-4, 6-1. He eventually ran into the force that is Red Hook's Jonas Lindholm-Uzzi. Lindholm-Uzzi beat Gohel, 6-2, 6-1.
The Presidents dominated doubles play, with three pairs making it to the match's quarterfinal round. In fact, the doubles championship featured two FDR pairs: John Ackerman and Considine against Zack Foster and David Tran. Ackerman and Considine defeated their teammates, 6-2, 6-1, to win the title.
All three doubles teams, as well as Gohel, were scheduled to represent FDR in the Section IX competition on May 21 at the Match Point Tennis Center in Goshen.
Even after graduating several top players from last year, FDR rebounded to enjoy another successful regular season, clinching its fourth straight MHAL regular season championship.
"I think for this group of guys, it means more than the previous teams, because we graduated so many top flight players from last year," Mayerhofer told the Observer prior to the MHAL championships. "It was more satisfying for them."
Facebook Comments