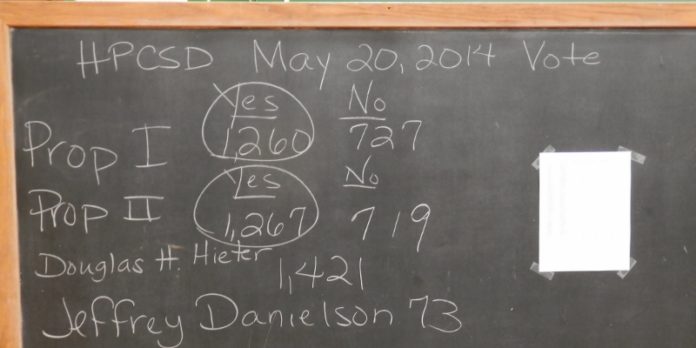 A steady, albeit relatively small, voter turnout and smooth voting process on May 20 led to the approval of the 2014-15 school budget and the election of one new board member and the return of longstanding president Douglas Hieter.
1,965 voters showed up to the polls Tuesday night, May 20 to approve the budget and vote in the incumbent Board of Education president, as well as a write-in candidate.
After the 2,015 physical and absentee votes were tallied by District Clerk Deborah Brosen, an Election Inspector, an assistant inspector, and two teams of two volunteers, Hyde Park Centrals School District's $87,399,907 budget was approved by 1,260 to 727. The bus proposition for $901,820 was also approved with a larger margin: 1,267 to 717.
Of the two open Board of Education seats, incumbent Board President Douglas Hieter got 1,421 votes and will now serve a fifth term. The second seat was taken by a write-in candidate, Jeffrey Danielson, with 73 votes, after incumbent Glenn Watson decided not to seek a fifth term.
"We thank the voters for coming out. We believe we put up a very fiscally responsible budget and believe the vote reflects that," Superintendent Greer Rychcik told the Observer when the vote was over.
The HPCSD budget was mostly contested by Clinton residents due to their concern over tax increases from the equalization rate of 0.62. Aside from Clinton residents, few members of the district showed concern over the $2.6 million budget increase at the meetings leading up to the budget vote.
Facebook Comments