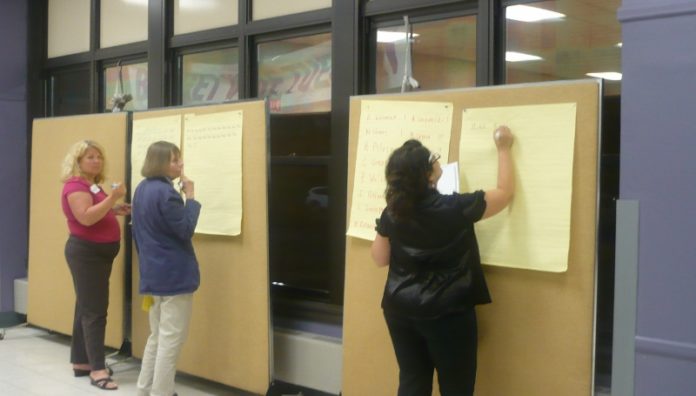 With the lowest voter turnout in at least five years, Rhinebeck's school district budget still passed easily while write-in candidates attracted significant support.
The district budget of $30,851,358 passed with 79 percent voting to approve, 492 to 134. It will mean a 1.87 percent tax levy increase, the lowest in 20 years, according to the district.
Board of Education President Deirdre Burns retained her seat with 485 votes. This will be her fifth three-year term.
Burns was alone on the ballot as the only incumbent to pursue reelection. No other candidates had stepped forward before the petition deadline, leaving one seat open.
But two residents who expressed interest as write-in candidates leading up to the vote attracted significant voter turnout, receiving 444 votes between them. Richard Walker, a 34-year resident of the area, won the second seat with 248 votes. He could not be reached for comment by press time.
David Tobias, a write-in candidate who appeared in the district's informational brochure, was the runner up with 196 votes. There were several other write-in candidates, none attracting more than a handful of votes.
Unlike Red Hook, Rhinebeck contracts with the Dutchess County Board of Elections to use the optical scan machines that are used for regular elections. According to district officials, this year, the voting went off without a hitch. After reading out the results from the machines, poll volunteers tallied the write-in results and counted absentee ballots to get the final numbers.
Superintendent Joe Phelan told the Observer he was pleased with the result and added, "We're happy that the budget passed, and we again take that as an indication of the community's support for what we're doing here."
Phelan noted that this was the lowest voter turnout in five years, most likely due to the passage of the state's tax cap. In 2013, 716 voters showed up, in 2012, 807, and in 2011, the last budget before the tax cap, 946 voters cast ballots, and in 2010, 1261 voted.
"I'm delighted that the budget passed overwhelmingly," Burns said, adding that she thought the high number of votes for the write-in candidates was a good sign for future participation in board elections.
Facebook Comments