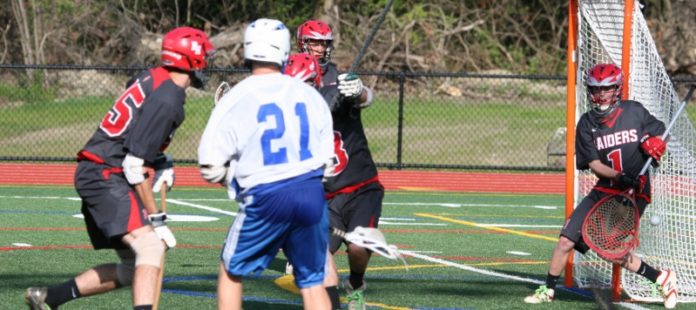 After six straight sectional titles, something had to give.
The Red Hook Raiders lost the crown on the road in sectional semifinals against Millbrook, 7-5–though not before giving the Blazers some serious last-minute anxiety.
Millbrook came out of the locker room swinging, but it was Red Hook's John Alessi who got on the board first with an unassisted bucket at 9:52. Red's first-quarter defense was solid through 12 minutes, controlling the zone around the goal and squeezing Millbrook at midfield. The Raiders would come out of the first quarter knotted at 2-2 with the Blazers; Red's Skyler Fustos managed a goal at 2:19 on an assist from Dennis Hare.
But in the second quarter, the Raiders who have had trouble with shot placement all season–couldn't find the sweet spot, hitting the pipes of the goal twice, despite having plenty of chances. Millbrook scored two unanswered by the visitors, one at 7:56 from Rory Shoemaker and another from Tim Dutwater at 1:40.
Red Hook desperately needed a goal to stop the Millbrook flow, and, with a final possession, Raider attacker Drew Zarrella put one in the back of the net on an acrobatic, diving shot – only to have it waved off when the referees said that he released the ball with no time left.
In the third quarter, Millbrook got out to a 6-4 lead, their biggest of the game, before Red began to bring it back on a goal from Mike Gildersleeve with :09 left, assisted by Drew Zarrella.
Then Red staged their would-be comeback: Zarrella scored on a layup, assisted by Michitsch, with 9:25 left in the game, and then Red Hook attackman Logan Cook took advantage of a Millbrook one-minute non-releasable penalty, and scored on another assist from Zarrella.
Cook had another chance moments later, busting from midfield for a one-on-one opportunity with Millbrook's goalie Conor O'Donnell, only to drop the ball five feet from the hole.
Red Hook's goalie Liam Quinlan made two stellar saves in the final four minutes to keep Red Hook in the game and complement his strong performance throughout, including a one-on-one breakaway stop with one minute left.
But the Raiders couldn't capitalize on the momentum. Right at the end, Zarrella had what looked to be the sixth goal, but came at the net from too tight an angle and missed by inches. Red Hook head coach Rich Saulino fell to his knees on the turf and the sizeable Red Hook crowd let out a broken-hearted sigh. O'Donnell heaved the ball high in the air to ice the game, and the Blazers rushed the field.
With the win, Millbrook will face Rondout Valley in sectional finals May 23. Shoemaker led all scorers with four goals.
Millbrook head coach Rob Gehlhoff told the Observer, "This has been really tough from the first year we started varsity. They play us hard every time, and they're a really smart club. We were able to overcome with our defense."
Facebook Comments