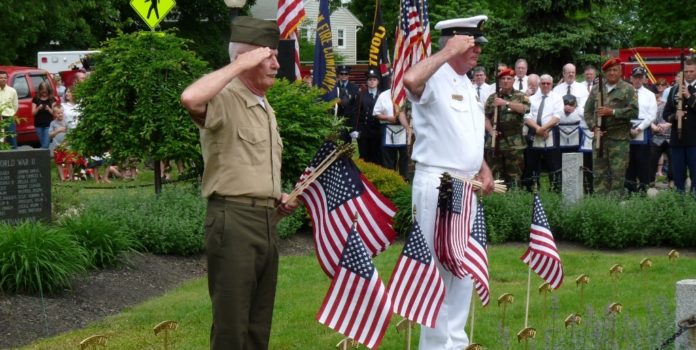 Red Hook's streets were lined solidly with people on Monday, as if the entire town turned out to honor the community's fallen soldiers on Memorial Day.
Members of Red Hook's VFW Post 7765 led the parade, which featured town and village officials, Boy Scouts, Girl Scouts, the high school and middle school bands, the classic car club, various floats and the Red Hook and Tivoli Fire Departments.
As the parade wound its way through the village, the sun broke through the clouds, in time for a solemn ceremony at Red Hook's Memorial Park on Route 9. There, VFW Post 7765 Commander Bill Moore hosted a moving service of remembrance to honor those who gave their lives for their country from World War I through the Vietnam War.
The ceremony began with a reminder that this year is the 70th anniversary of D-Day and the 150th anniversary of Arlington Cemetery.
The Red Hook High School band played an armed forces medley and Father Thomas Curley of St. Sylvia's in Tivoli gave the invocation.
"The price of our freedom has been costly, demanding from our noblest citizens their sweat, their blood and, ultimately, their deaths," he said.
The Red Hook high school and middle school bands then played the National Anthem. This was followed by a strong speech from Moore calling for proper medical care for all veterans.
"The noble defenders of our nation have performed the highest form of public service… and we have an obligation to care for them and their families," he said, adding, "If we truly want to honor the dead, we must truly care for the living."
Navy Seal Frank Ackley and Senior Chief Petty Officer Chuck Simmons then placed 31 flags to memorialize the fallen soldiers of Red Hook. As each name was read, a white dove was released into the sky.
Wreaths were then placed at the memorial by community organizations, including Robin Rodgers of the VFW Men's Auxiliary, Joyce Shaw of the Red Hook/ Rhinebeck Elks Club, Mike Lane of the Red Hook Fire Company and Chief Marc Hildenbrand of the Tivoli Fire Company.
The VFW Post 7765 color guard fired a salute to the departed, taps was played, the flag was raised from half-staff and Father Curley gave his benediction to bring the ceremony to a close.
To see photos of the parade and ceremony, visit our Facebook page:
Facebook Comments