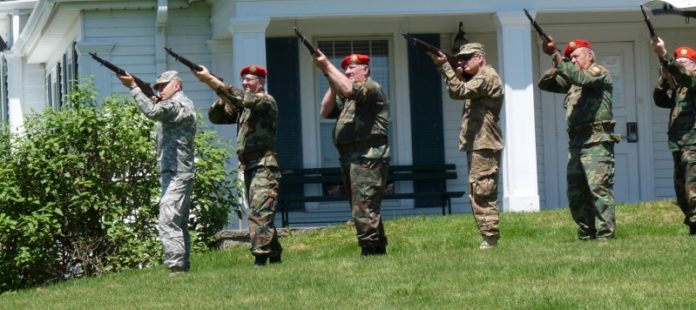 A rider-less horse, symbolizing the last ride of fallen military leaders, led Milan's fourth annual Memorial Day parade to Town Hall Monday for a ceremony honoring Korean War veterans.
Pipers, school bands, classic cars, an armored personnel carrier from the Kingston National Guard, the Red Hook VFW color guard and the Milan and Pine Plains Fire Department and Rescue Squads joined together to make the parade a special event for the 80-100 people in attendance.
The ceremony was dedicated to parade Grand Marshal Jacob Grossberg, a Korean War medic and former art professor at Bard College. Town Supervisor Bill Gallagher opened the ceremony with the Pledge of Allegiance, which was followed by vocalist Marion Matheson leading the crowd in the National Anthem.
"Today, we gather to honor our deceased veterans and also to remember that freedom is not free," Gallagher said. "It comes at a high cost, and our nation's service members and families have always continued to pay that price."
Marine veteran and Town of Milan Veterans Committee member Timothy Williams spoke about Grossberg's experiences in Korea. " 'Doc' Grossberg saved many a Marine's life and was the closest thing to a doctor you were likely to get [on the battlefield]," he said.
The Stissing Mountain High School band played an armed forces medley and Gallagher spoke again about the "forgotten" Korean War, which was fought for three years by five million Americans and cost 35,000 American lives, out of the 2 million deaths overall.
"M.A.S.H. units near the front lines saved many lives, but unlike the TV show, Korea wasn't that funny," he said.
Williams then presented a framed copy of a poem written by local poet Dennis McCann entitled, "White Crosses" to the town, dedicating it to the veterans and their families.
"With hearts of steel and tender touch, we owe them all so very much," it reads.
Then the Amerscot Highland Pipe Band played "Amazing Grace," a member of the Stissing Mountain High School band played Taps and the VFW Color Guard fired a volley.
Williams capped the ceremony by saying, "Memorial Day is not about barbecue, it's about preserving the memory of our lost veterans."
See more pictures on our Facebook page:
Facebook Comments