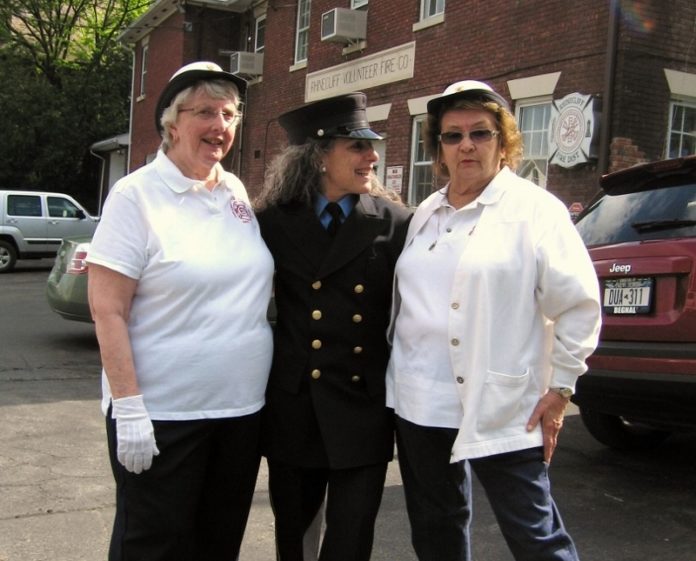 Rhinebeck Memorial Day observances traditionally begin first in Rhinecliff, and on Monday, the hamlet once again held a small but poignant ceremony and gun salute.
William Cotting, past chief of the Rhinecliff Fire Department, was in charge of the half-hour agenda, which included prayers, patriotic music, a reading of the Honor Roll, the Pledge of Allegiance, the National Anthem, and a wreath-laying at the memorial park. About 15 residents were in attendance.
The narrow streets were filled with fire engines from the Rhinecliff, Rhinebeck, and Hillsdale fire companies, joined by the Rhinecliff ambulance and an army jeep.
By 9:15am, more than a dozen veterans in uniform, representing all branches of the U.S. military, had marched down Kelly Street to stand at attention on the edge of the small memorial park for the ceremonies. Also present were 40 uniformed members of the fire company.
Susan Silverman,the vice president of the Rhinecliff Volunteer Fire Company and a former secretary of the Ladies Auxiliary, marched in the parade this year wearing the official dress blue uniform for the first time.
Asked if the uniform made her feel different, she replied, "I am so proud of it. I feel very emotional about it. Being a member of the fire company is just an amazing opportunity to serve the community, to give back. I love it."
To see pictures of the ceremony, go to our Facebook page:
Facebook Comments