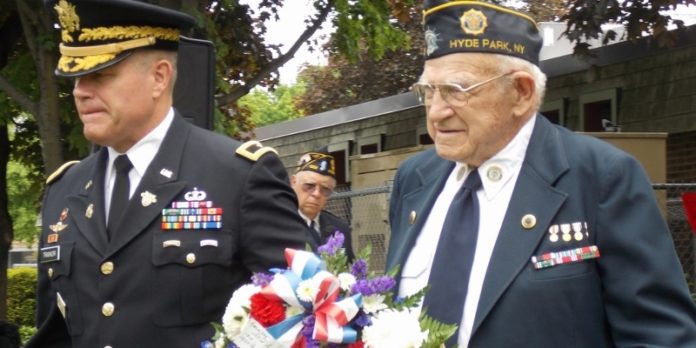 "Freedom is not free" was the theme of Brigadier General Timothy Trainor's keynote speech Monday at Hyde Park's Memorial Day ceremonies.
The speech at Town Hall followed a morning of parading and remembering those who gave their lives in U.S. military engagements, dating back to the Revolutionary War.
Crowds gathered all along Route 9 to view the annual holiday parade, which included three bands, fire trucks and community organizations, along with veterans and representatives of military organizations.
This year's gathering included a large number of young people, who attended with parents, waving flags, balloons, and dressed in patriotic red, white and blue colors.
At the Memorial Day dedication ceremony, conducted by the Hyde Park American Legion, Commander Michael Athanas welcomed the Brigadier General from West Point, who said he felt honored to be invited to speak in the hometown of Franklin Delano Roosevelt. He emphasized, as did other speakers, the importance of remembering those who gave their lives for the freedom of fellow and future Americans.
Town Supervisor Aileen Rohr thanked the local veterans gathered at the ceremony and then read the stirring poem, "In Flanders Fields," written by John McCrae in 1915 to honor the soldiers who died in World War I.
For more pictures, go to our Facebook page:
Facebook Comments