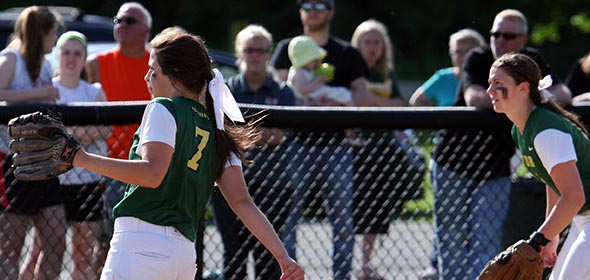 "This was a really good bunch of girls. They had a lot of spirit, a lot of heart," FDR softball head coach Sam Mantor said of her top-seeded team after they lost to Warwick, 5-0, in the semifinals of the Section 9, Class AA tournament on May 29.
The Lady Presidents, who received the one seed in a very deep Section 9, Class AA, only managed two hits on the game, and struggled all the way around against the visiting Wildcats, but especially on defense.
FDR's primary pitcher, Allison Pritchard, was on the mound for the game, but got off to an inauspicious start, allowing two Warwick baserunners in the first inning. However, Pritchard got out of the jam when one of the runners was called for interference on a grounder and sent back to the dugout with an out. She got out of the inning with no runs earned, however, even though the Warwick team was, from the first pitch, swinging a big bat.
"We've always heard that they have really good bats," Mantor told the Observer after the game. "And when the team starts opening up their bats early on, it gets in their head a little."
In the second inning, with none out, Pritchard gave up a double to deep left that skipped past Carissa Punksody. After Pritchard picked off a runner at third base, Warwick scored their first run on a single to left field and followed that with a single to centerfield that brought in two more; Warwick hung another run on the Lady Presidents and finished the inning with a 4-0 lead.
Mantor left Pritchard in the game until the top of the fourth inning, when she replaced her with Alyssa Pfitscher after Pritchard gave up a home run in the top of the third. Pfitscher held the Wildcats scoreless in her four innings on the mound.
But the damage was already done. FDR couldn't lay wood on any Warwick pitches, and went down in three outs in the bottom of the seventh to kill the game.
Mantor said that Pfitscher's switch was necessary.
"When we put in our second pitcher, she did well; it's hard for a team like that, when they've been with one pitcher successfully, another pitcher comes in. Then they can't get a hold of the ball. Switching it up was important against a team like that. That's why the pitching change had to be made," she said.
The season may have ended on a sad note, but Mantor is looking forward to a very successful 2015 campaign.
"This year we only had two seniors on the roster," she said. "Next year is going to bring even bigger and better things. I believe next year we'll have seven seniors on the roster, seniors at pitcher, catcher, centerfield, and first base."
FDR's last entry into sectional play was back in 2009, when they took the championship.
Facebook Comments