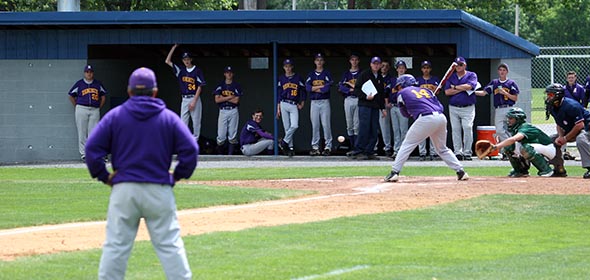 Three games, six days, and all the emotion that you can get out of a high school baseball team.
That's what Bill Carney's Rhinebeck Hawks baseball squad gave fans in the Section 9 championship tournament in their first year in Class B. They started on May 27 with a 4-0 quarterfinal win against Onteora and finished on May 31 with a 4-1 loss in the championship to Spackenkill.
In Rhinebeck's home matchup with Onteora, the Hawks didn't get things moving until the later innings. But it was clear early on that Kory Hutchins, Rhinebeck's ace pitcher and owner of two no-hitters in the season, was working on something special: through the first four innings, Hutchins kept the Onteora ball on the ground, and while he allowed a couple of walks, no batters progressed to first.
Rhinebeck didn't manage any offense until the bottom of the fourth, when Hutchins got to first base on an error. He was followed by Nick Hoynes, who dropped a single into centerfield, putting runners on both first and second. After a walk for Rhinebeck, the bases were loaded, and Hunter Brandt laid a single that brought in two runners; Chris Cassens followed him shortly after, bringing in two runs on a single.
The fourth was Rhinebeck's only scoring inning, and Hutchins made sure no Onteora players scored. As rain clouds encroached, he polished off his third no-hitter of 2013.
"Onteora had previously beaten us 12-3," Carney told the Observer. "We played a poor game that time, but they're a good team. Kory was really strong, though, with the no-hitter. Only one ball reached the outfield. We had three errors, but Kory just totally dominated… typical Kory. Just dominant this year."
The quarterfinals against O'Neill on the road on May 29 were a good ol'-fashioned gritty baseball game, replete with bad blood and cleared benches, according to Carney.
Carney started Eric Rodriguez, looking to save Hutchins' arm for the potential championship game, and he played well, holding O'Neill scoreless through two and a half innings.
"We put Eric Rodriguez out there because he has a nice, slow slider, but we knew he couldn't go seven innings. He got through the first and second innings unscathed, and we got to the third, and he just didn't have the bite on it anymore and it started to slip, so we put in Chris Cassens," said Carney in a phone interview.
Cassens was pulled in the seventh inning so Hutchins could close out the game. He iced the inning with a groundout and two strikeouts, but not before the O'Neill crowd chanted 'Kory' in Darryl Strawberry tradition.
"It got a little ugly," said Carney. "Kory picked a kid off (in the seventh inning) and got all revved up. He even pointed at the crowd. I had to go out there and settle him down. The kid who got picked off got upset and he wanted to fight our first baseman. Both benches cleared. It was not a good situation."
Hoynes then hit a sacrifice fly to bring in Cassens for the game's only run, giving Rhinebeck the game 1-0.
O'Neill athletic director Debra Crowe decided against letting the two teams shake hands after the game, according to Carney.
The championship showdown with Spackenkill had a familiar feeling: Rhinebeck had thrown down with the Spartans twice before in 2014, and lost both times. Hutchins was on the mound for the game, but as in his most recent prior start against Spack, had trouble cooling the Spartans down. Offense got off to an inauspicious start, too: Rhinebeck loaded the bases in the top of the first, and even had a chance at an early run, but Cassens was picked off at first and the inning ended with no runs tallied.
Spack scored a run each in the bottom of the first and third innings, bringing the score to 2-0. And they scored their third and fourth runs on a botched pick at third that let the runner on third score, and a single that brought in another run.
Rhinebeck looked like they had some rally in them in the top of the seventh, with two runners on first and third and two out, but the game ended with a hit by Cassens that was barely caught in centerfield for an out.
Carney gave his team a speech before they went back to the dugout, and consoled the heartbroken players. But later the Rhinebeck coach glowed about his team, calling them "the best group that I've ever had."
He added, "This team is tremendous. The character of this team is great. I've heard it from coaches, umpires, other players. They're outstanding young men. They are champions. It's great to win baseball games, but it's not everything… This is a championship team. And it takes a team like that to beat us. I can't say anything bad about that."
Facebook Comments