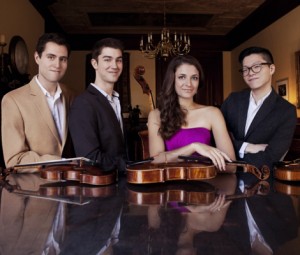 The Hudson Valley Chamber Music Circle will present its 2014 series of concerts at Bard College's Olin Hall on June 7, June 14 and June 28, all at 7pm.
Under the directorship of violinist Jamie Laredo and violist Sharon Robinson, this year's series features Laredo and Robinson joined by Menahem Pressler and Michael Tree; The Dover Quarter; and violinist Jennifer Koh and pianist Benjamin Hochman.
Helen Hull, the socialite-heiress and first wife of Vincent Astor, founded the HVMC in 1950 when she invited two friends to her riverfront estate to organize a series of recitals in their homes. What distinguished Hull from so many of her acquaintances was her active and steady support of music, ranging from her work as one of the founders of the Metropolitan Opera to her presidency of the Musicians Emergency Fund.
From the beginning, the HVMC attracted world-class musicians, eager to perform in intimate settings, a tradition that continues in Bard's small Olin Hall. For tickets or information, call 845-339-7907 or email: Hvcmc.bardcenter@gmail.com.
Facebook Comments