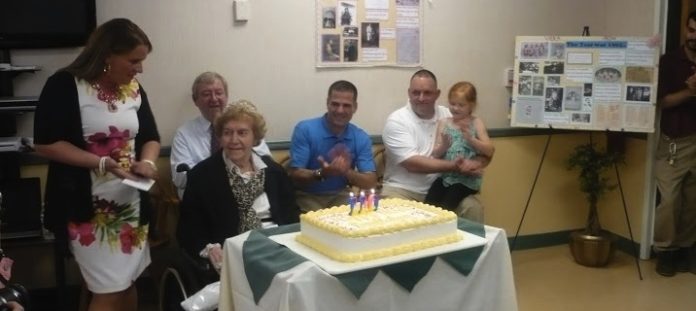 What's the secret to a long life? Let Vera Van Wagner tell you, she just celebrated her 110th birthday.
"My folks were all candy and ice cream makers, so I lived on that. That's my secret, 100 percent," Vera said with a smile, patting her tummy.
Vera has been officially declared the oldest person in Dutchess County and the 71st oldest person in the world. She appeared to be in high spirits at her May 24 birthday party, which was thrown by the Baptist Home at Brookmeade in Rhinebeck, where she currently resides.
She good-naturedly participated in several small speeches in her honor, getting in a word or two on each.
When County Executive Marc Molinaro presented her with a county commendation declaring the day "Vera Van Wagner Day," he noted that at a county celebration earlier in the week she had given him three kisses — and so far on her birthday, he had only received one.
Though confined to a wheelchair, Vera smiled and made a move to get up and give him the other two right then and there.
Another proclamation was presented by Mayor Heath Tortarella on behalf of the Village of Rhinebeck. He also stole a kiss, and as he turned away, Vera said, to the delight of all, "How 'bout another one?"
"It's a kissable day," she declared.
A letter of congratulations from the White House was met with similar aplomb.
"How lovely," she said.
About 35 members of Vera's extended family attended the celebration, some from as far away as Texas but most still living within the county. Vera laughed and joked with her relatives, holding a baby, one of her youngest relatives, while photos were taken.
Vera's family roots are in Poughkeepsie, and the sweet shops of her life began when her grandfather Jacob Schrauth emigrated from Germany in 1854 and opened a bakery on Main Street. The store expanded to include ice cream and confections and was, according to her relatives, a destination spot– its potted palms and mirrors and cakes, candies and other goodies rivaled European confiseries.
With its slogan "Every Flavor Meets with Favor," the store ran from 1902 to 1934, when the business (recipes included) was sold to the Borden Company.
Vera was born in New York City in 1904, and her father, Charles Schrauth, also owned sweet shops, four of them, in Union Hill, N.J. In 1912, the family moved to Newburgh where her father opened a similar shop. After he died in 1917, the family moved back to Poughkeepsie, where Vera attended local schools. She later worked at Vassar College and for a local dentist in office administration.
She was an active member of the Four Fold Club of the Reformed Church in Poughkeepsie, which is where she met her husband, Thurlow Van Wagner. They married in 1933 and lived in Poughkeepsie; he died in 1997.
Although she never had any children, Vera is clearly beloved by her extended family.
Maggie Beck, one of her great-great-nieces by marriage, recalled how Vera would tuck a bird feather into each birthday card she would send to children in the family, signing it, "Happy Birthday, from Birdy."
"She loved children; she was a very generous, very kind woman, always," Maggie said.
Vera's third cousin, Janie Ridgeway, who came from Texas for the celebration, recalled how Vera always cared for animals, especially birds. She had a cockatiel named "Pee Wee" that she had taught to say, "Here comes Thurlow, get him a beer!" Janie said. Friends and family would often bring her injured birds to nurse back to health.
Vera's great-great-nephew, David Beck of Poughkeepsie, said she was also known for raising praying mantises, which she kept in her house plants and fed orange juice with an eye dropper. "Especially on the holidays, we would all congregate at her house," he recalled.
Bill Werle of Staatsburg, also a third cousin, noted, "I'm 63, and her face is part of my earliest memories." He recalled a trip to Me-Oh-My Pie Shop in Red Hook with Vera and his sister just a few years ago and marveled at how clear Vera's memory was on that day.
At the party, Vera seemed delighted by all the attention and the large crowd of at least 75 people.
"This is the most pleasurable time I've had in a long while," she said.
Facebook Comments