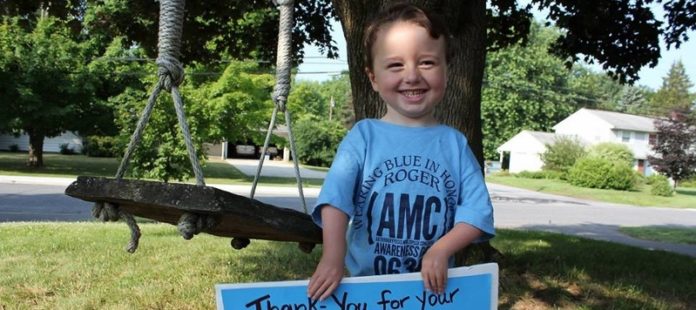 By Amanda Howard
On any given day, four-year-old Roger Loughran is likely to spot his name on strangers' blue T-shirts when he walks the streets of Red Hook. After this month, the encounters should be even more common, and the wearers are less likely to be strangers.
Roger's Run 4 AMC, a 5K run/walk to raise money for Arthrogryposis Multiplex Congenita (AMC), will be held Saturday, June 14 in Red Hook. The event is in its fourth year and going strong. Participants receive a blue Roger's Run T-shirt, a chance to win raffle prizes, and the satisfaction of supporting a good cause.
Roger was born with AMC, a rare condition that limits the range of joint motion. His parents relied heavily on the Arthrogryposis Multiplex Congenita Support, Inc. (AMCSI) support group for materials and information.
"They provided hope and peace of mind," said Lisa Loughran, Roger's mom. A sonogram at five and a half months told the family what to expect, and the AMCSI got them ready for the next steps. "The early intervention – Roger's had occupational and physical therapy since he was two weeks old – is the reason he's ambulatory now," Loughran said.
There were 275 participants the first year of the race, and 322 last year. Their goal is to hit 500 this year, topping 2013's $10,000 donation to AMCSI. The funds will go to the AMC annual convention as well as to providing resources for other AMC-affected families.
"The community support has been phenomenal," Loughran added. "We just want to give back to the group that helped us so much."
It is also very much a family affair. Roger's older brother and sister help recruit and set up for the race, and an aunt and two cousins are on the planning committee. "Everybody comes out," Loughran said. "We look forward to it every year."
To continue the spirit of giving, this year race will sponsor a $1,000 scholarship to a Red Hook high school senior planning to major in occupational or physical therapy.
Roger's Run 4 AMC starts at St. Christopher's School at 30 Benner Road at 8:30am. Check out www.rogersrun4amc.com to register, donate or find out more. If you can't make it to the race, remember June 30 is AMC Awareness Day, and wear blue to show your support.
Facebook Comments