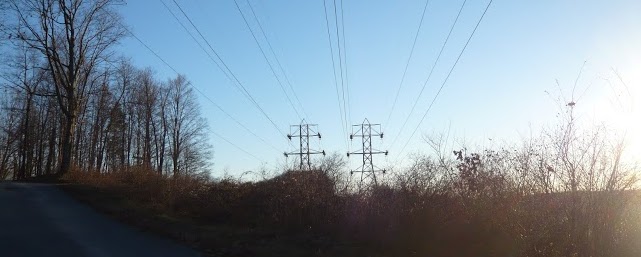 Milan Town Hall was packed with residents for an information meeting May 17 on the state's plan to run high-kilovolt power lines throughout the Hudson Valley.
State Senators Didi Barrett and Terry Gipson, President of Scenic Hudson Ned Sullivan and Deputy Supervisor of Livingston and local farmer Will Yandik contributed to a panel of speakers who delivered informative and rallying speeches in opposition to the 345-kilovalt towers in four proposals currently under review in Albany.
Town Councilperson Marion Mathison summarized the general consensus of the panel by saying, "What we want is an energy system that works for the 21st century." She also insisted that any proposal to modernize the state's energy infrastructure must be handled the right way, and not result in taller towers or the loss of land.
The panel's secret weapon proved to be Bard College professor Gidon Eshel, a physicist, climate scientist and Milan resident opposed to the power lines plan. Eshel delivered a PowerPoint presentation on why the proposal is unnecessary using scientific evidence and images to support his claims.
"I am here to say that it is not needed based on simple arithmetic," he told the crowd of 80-100.
Eshel also touched on another concern that panel members and residents raised at the meeting: safety. He noted that the plan appears to be "ingeniously designed to maximize its vulnerability to a malicious attack."
Margaret Evans, representing National Grid, a national utility contending for the state project, told the forum that the proposal is an ongoing process and that her company has made a commitment to listen to everyone's needs. She assured residents that National Grid has technology such as alarms and helicopters to monitor the power structures. Her company's goal, she added, is to "present the best project, do it once, and do it right."
A brief question-and-answer session was held at the end of the meeting, for residents to speak their minds.
David Marshall echoed a lot of attendees' concerns about security when he called the high concentration of power and its proximity to the gas line "ingeniously stupid." He also asked why Homeland Security wasn't present at the meeting.
Mathison explained that the state Public Service Commission, which solicited proposals for 1,000-megawatt transmission systems that would ease electrical transmission congestion, has stated that it is not time to look at security or terrorism at this stage of the planning.
Clinton resident Sharon Kotler directed attendees to NoMonsterPowerLines.com and reminded them that while the PSC's call for high-voltage plans "specifically asks for something that can be done fast and cheap, it leaves out one critical adjective, and that is 'good.'"
Facebook Comments