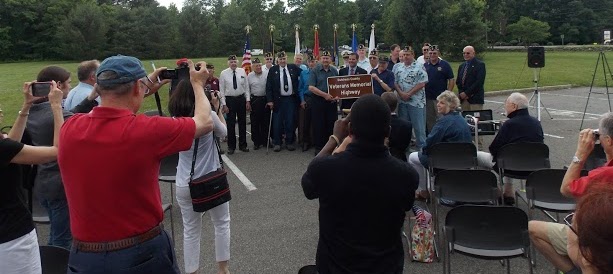 A local highway now pays tribute to the many area veterans who have sacrificed for their country.
Elected officials, veterans, and community members gathered together in the former Stop & Shop parking lot in Hyde Park on Flag Day, June 14, for a special dedication of St. Andrews Road as the Dutchess County Veterans Memorial Highway.
The county's Director of Veterans Services, Nelson Eddy Rivera, a retired Navy veteran, welcomed the nearly 100 people attending the dedication ceremony by asking "Would all those who have never served in military service, please stand up?"
Once they did, he continued, "Now let us give a round of applause to those still seated–our dignitaries present today–local veterans who we honor with this dedication."
His words set the tone for subsequent speakers who joined in unison to praise, and pay tribute to, those who have served their country.
St. Andrews, which is County Route 40-A, a 1.17 mile roadway between Route 9 and Route 9G, becomes the first full county road to be given the honored designation. New signs, along with a facsimile of an American flag, have been posted at both ends. A small portion of Route 82 in Hopewell Junction is also designated a memorial roadway for veterans.
Hyde Park Town Supervisor Aileen Rohr followed Rivera's welcoming comments by saying, "We are honored to have this designated roadway in Hyde Park, and I hope that those who travel this roadway will pause to remember how much we owe our veterans."
Dutchess County Executive Marc Molinaro and Hyde Park's representatives in the Dutchess County Legislature, Sue Serino and Richard Perkins, also offered ceremonial comments. Since St. Andrews is a county roadway, their approval was important for the decision to designate the road a Veterans Memorial Highway.
Mike Athanas, Commander of American Legion Post 1303 in Hyde Park, said, "Without the commitment of our veterans, we would not enjoy the benefits of freedom we have today."
The idea for the memorial recognition was initially advanced by Town of Wappinger legislator Joseph Incoronato, who said at the dedication, "I believe that this Veterans Memorial Highway is an especially meaningful landmark for honoring the service and sacrifices of present and deceased veterans. It is only a short distance from the home of Franklin Roosevelt, our World War II leader, and I hope it will be, for generations to come, symbolic of the debt Dutchess County owes to all men and women who have answered the call to military duty."
Incoronato and Molinaro then invited all the veterans to come forward as the designating sign was uncovered in unison with the two roadway signs — and St. Andrews became an official veterans memorial highway.
Members of veterans organizations representing the American Legions and Veterans of Foreign Affairs in Hyde Park, Pleasant Valley, Poughkeepsie, Wappinger and Pine Plains were present for the ceremony.
Facebook Comments