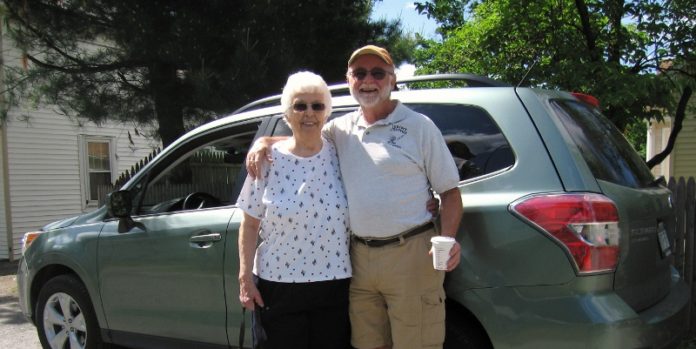 Myrtle Moore has enjoyed living in the Village of Red Hook for 67 years, and these days she is very grateful when she can receive assistance in getting around. On a recent Friday morning, she was delighted to open her door to Bill Carroll and be escorted to his comfortable van to get to her appointments of the day.
Carroll, who lives in Rhinebeck, is a driver for Friends of Seniors of Dutchess County, a volunteer-based nonprofit organization that provides free non-emergency transport and home visits to seniors across the county.
"Friends of Seniors are wonderful people," Moore said. "They've been very good to me since I started with them, about five months ago. I call in, and they try their darndest to get me a ride. They're all so nice and friendly."
Carroll formerly volunteered for Northern Dutchess Caregivers Coalition, which provided similar services but closed last fall. He is happy that Friends has extended their services to this area and he can continue to be of help.
"I find it very rewarding," Carroll said. "Here I am, retired, so it's very satisfying to be able to do something that is very simple for me. Volunteers get an email asking if we can take someone, and we call the individual and work out the details."
Friends was founded in 2004 by Susan Davidson, the current executive director, and Judith Darrow, and it recently expanded its services into the northern Dutchess area from its base in Poughkeepsie. The organization is supported by grants and funding from the county's Office for the Aging and provides basic support services for seniors from Monday through Friday, starting at 5am if a volunteer driver is available. In addition to transport to doctors, dentists, labs and medical procedures, the organization also offers assistance with grocery shopping and other daily needs.
"We started off as a small organization, a supplement to many other volunteer transportation programs, most of which are now defunct," Davidson explained. "We cover most of Dutchess County, including its two cities, four villages and 13 towns. We drive to Albany; New York City; Sharon, Conn.; and Westchester, Putnam, Ulster and Columbia counties."
The trips outside the county are for non-emergency medical appointments, and the service is limited to Dutchess County residents.
Davidson told the Observer, "What I say to new clients, especially if they are stressed, is that Friends of Seniors is an extension of their independence. Our theme is Seniors Helping Seniors. There is a process we go through before taking on clients, including a home evaluation."
In the last four months, the 66 volunteers drove 150 seniors 30,500 miles to 805 medical appointments. In addition, 870 hours of in-house support was provided, which includes grocery shopping, visiting, telephone reassurance, and respite for primary caregivers.
Volunteers drive their own vehicles, for which they are reimbursed 40 cents per mile and they are covered by an umbrella insurance policy.
Davidson said the organization vets the volunteers very carefully. "Our volunteers are required to provide some daunting paperwork that we need for insurance purposes (driver's license, insurance, registration, driving records from DMV). Once I receive that, then I know the person is serious," she said.
Even with 66 volunteer drivers, Davidson added, "We really, really, really need volunteers!"
Friends of Seniors of Dutchess County Corp.
42 Catharine Street, Suite 210, Poughkeepsie
845-485-1277
www.friendsofseniors.biz friendsofseniors@hotmail.com
Facebook Comments