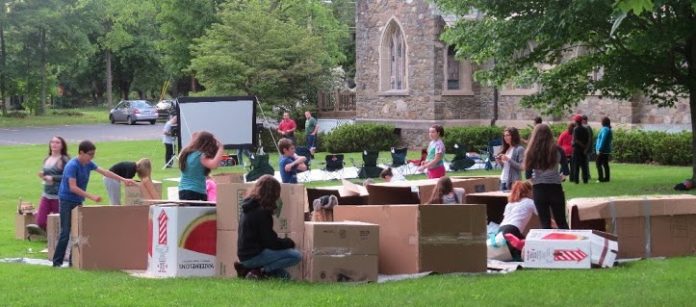 On a recent weekend in Red Hook, two dozen teens spent the night in cardboard boxes in the middle of the village only to be rudely awakened and sent to a make-shift shelter in the wee hours of the morning.
The exercise, called "Box City," was designed to raise awareness of the plight of the homeless. Twenty-one teens in the St. Christopher's Church "Teen Fusion" youth group in Red Hook, ages 13-17, participated in the event May 31.
Before the sleep-out, Kate O'Rourke-Murphy of Dutchess Outreach in Poughkeepsie spoke to the group about homelessness around the country and in Dutchess County. The teens also watched the 2013 film "Gimme Shelter" about a pregnant teen who ends up living on the streets.
The local teens ate a soup kitchen supper and then slept in large cardboard boxes set up on the church lawn on South Broadway in the village.
At 2am, a pre-arranged visit by Red Hook police officers startled them awake and they were told to vacate their "homes" because they were trespassing on private property. The teens made their way down Garden Street to the Parish Center on Benner Road where they finished the night.
"At that point, they had a small glimpse into the struggles and hardships of the homeless. The teens were upset that they had to leave their boxes…to instead have to sleep on the hard, uncomfortable floor of the make-shift shelter. They felt displaced," said Kathy Marici, one of the event organizers.
That was the point, she added, "They got it."
Facebook Comments