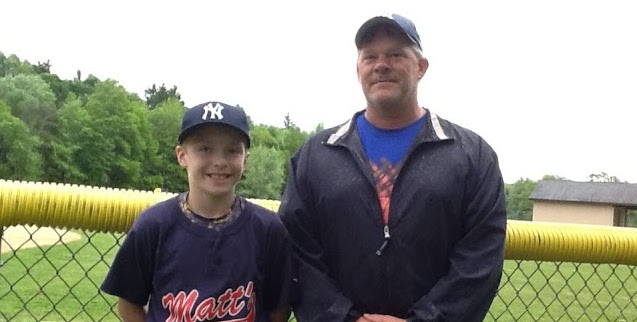 I'm looking at an old photo of my 6-year-old son in full Little League regalia: Light blue cap (too large), the mildly stained handed-down nylon shirt with "Del's" sprawled across it, and those stretchy baseball knickers unaligned above black cleated shoes.
Last month, he graduated from law school. From clasping a baseball bat to a diploma… nostalgia seeps in.
What was better than those days? Juggling plans to get to games, cheering him on, wondering if he'll be exuberant, dejected, silly, angry… or all the above; sitting with other parents in the blazing sun or cold or drizzle.
I had to get back there. So I did–to Friends Field in Clinton Corners, where his team once played opposite the fearsome Taconic Little League.
Even though it rained, the game was on. Die-hard fans (family) sat under umbrellas hollering the same "Great pitch!" and "Way to get him out!"
The team's coach, Dennis Pryzgoda, a Stanfordville resident for 17 years with his wife, Cindy, knows a thing or two about baseball. He played Division 1 College baseball and earned tryouts with the Mets and Phillies. He started coaching high school baseball while playing college baseball in the early 90s, and he has coached the Matt's Auto Body Yankees for the past three seasons.
His twin sons, Nolan and Aidan, play for the team alongside another set of twins. Nolan, 11, with the polished style of Derek Jeter, offered me a seat in the sports shed for a talk as the rain fell outside and the teams were warming up. He's been playing baseball since he was five, he said, but first held a bat at age 18 months.
A baseball all-star for the past three years, Nolan also plays football, basketball and golf. It takes a certain attitude to know how to play ball. And Nolan has a great one.
Three Questions:
What is it that you like most about Little League?
Nolan: "Having fun with friends. The most important thing is having fun."
What are some of the ways to keep things cool when your team is under pressure?
Nolan: "Chanting really loud.
We care what happens, but if you get out, you get out – there's not really much pressure when you're having fun. We always cheer in the dugout. And sometimes when everyone is getting excited, we're on the fence, jumping up.
When an umpire makes a call I don't agree with, I shake it off … and wait for the next game, and do better next time."
What do you consider a good season?
Nolan: "This has been a good season."
The team ended its regular season 13-1 and was headed for the playoffs when this interview took place.
Facebook Comments