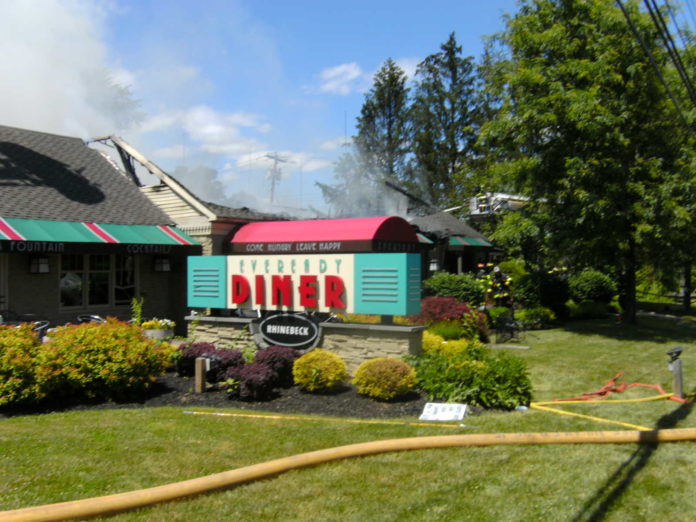 The Eveready Diner across from the Dutchess County Fairgrounds in Rhinebeck was very heavily damaged by fire mid-day Saturday.
With Route 9 closed, traffic diverted and thick smoke for a while blocking the area, up to 100 firefighters from 12 fire departments fought almost three hours to bring the flames under control.
According to Rhinebeck Fire Department public information officer Henry Campbell, no employees or diner patrons were hurt, but two firefighters sustained minor injuries.
The fire reportedly started in a deep-fat fryer in the kitchen just before noon, and employees attempted to douse it with an extinguisher, but it flared up and spread above the ceiling area, Campbell said. There were 12 employees and another dozen diners in the place at the time.
Everyone evacuated safely, and when firefighters arrived, the building was empty but flames were shooting through the roof, Campbell said. The blaze then spread around the corner of the L-shaped roof, he added.
At 3pm, the fire appeared under control but firefighters were still fighting "hot spots" until 9pm. The building sustained "a total roof collapse" along with extensive fire, water and smoke damage, according to Campbell.
The restaurant is owned by the Serroukas family, who still run the original Eveready Diner in Hyde Park. The Rhinebeck diner, formerly Victoria's Peak, was called the Rolling Rock Cafe and then renamed the Double-O Grill in 2005 before the family changed its name to Eveready Diner in recent years.
The fire caused the shutdown of Route 9 from Mulberry St. to the Route 9G intersection until 8pm.
Twelve fire departments, including nine from Dutchess County, two from Ulster County and one from Columbia County responded: From Dutchess: Hillside, Rhinecliff, Milan, Red Hook, West Clinton, Staatsburg, Roosevelt, Pleasant Valley, Fairview, and Tivoli; From Ulster: Ulster Hose #5 and Glasco; From Columbia: the Germantown fire department.
Firefighters used a hydrant about 800 to 1,000 feet away, and a tanker relay from a reservoir of water at the Fairgrounds to fight the blaze, Campbell said.
Also there were the State Police, Dutchess County Sheriff's Office, the Rhinebeck Police Department, Northern Dutchess Paramedics and Central Hudson.
Traffic for the Hudson Valley Brew Festival that started at the Fairgrounds at 2pm was routed the back way in through Mulberry Street.
More details as they emerge.
This story was updated to reflect that Red Hook Fire Department also responded, since they were unintentionally omitted from the original press release.
Facebook Comments