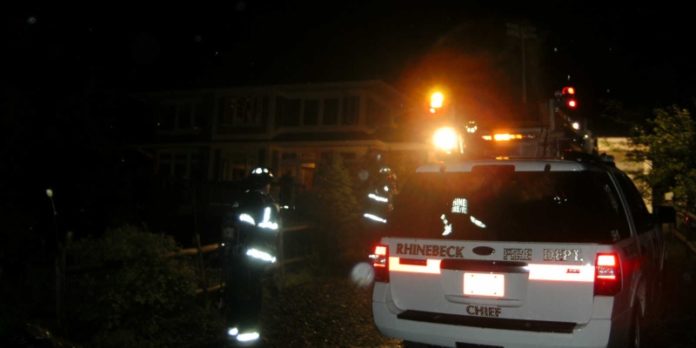 A lightning strike set fire to a house on Pells Road in Rhinebeck Wednesday night, but the occupants and their dogs were safely evacuated.
According to the Rhinebeck Fire Department, firefighters were dispatched at 8:21 pm for a house full of smoke at 169 Pells Road. The house, set back from the road approximately 700 feet, had been struck by lightning one hour earlier and over that time period began to fill with smoke.
The owners, Dr. Martin Silverstein and his wife, safely evacuated with their two animals, a fire department news release said.
The news release added, "The fire was located within the rear wall of the basement and first floor area of the home, above and below the fireplace. Within this enclosed wall area, the lightning arrester grounding cable was located and the electric charge running through the cable from the lightning strike caused the fire to ignite and smolder within the wall area, going unnoticed for an hour."
Firefighters opened the wall and extinguished the fire with a hose stream.The home sustained smoke and minimal fire and water damage and remained habitable after the fire.
Firefighters, under the command of Chief Kevin Asher, remained at the scene until 10pm during heavy rain, lightning, and thunderstorms.
Assisting at the scene or on standby were the Hillside, Milan, Red Hook, Rhinecliff, and Tivoli fire departments. Also on scene were state police and Northern Dutchess Paramedics.
Facebook Comments