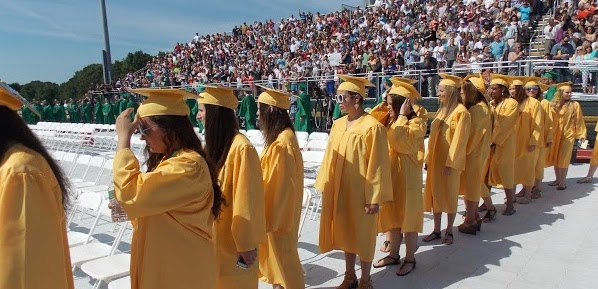 Urged by their salutatorian and valedictorian to build new roads toward success and be individualistic, the 280 members of the FDR High School Class of 2014 celebrated their commencement under clear blue skies in front of packed bleachers at the high school's new athletic field complex on Sat., June 28.
Kendrah Bellevue, Cassidy Drop, and Lucelly Orrego, three members of the Class of 2014, got the ceremony off to a stirring start with the "National Anthem."
After a welcoming statement from outgoing principal Barbara Marrine, salutatorian John Paul Ackerman took to the podium to talk about lessons he learned about the solidity of roads that were built — and lasted for ages — during the Roman Empire.
"Today, we should build roads that will last long into our future and that will decide where our lives will take us," he said.
Ackerman also suggested that magic can play an important part in the graduates' lives, noting, "With our friends, we are able to overcome any obstacle in the road ahead, and that is something magical."
Board of Education President Douglas Hieter seconded Ackerman's comments, saying, "It is our hope that each of you will find the right road to success."
School district Superintendent Greer F. Rychcik then welcomed the class into the graduate fold by saying, "I am so happy to see your graduation on our new athletic fields and, as an FDR graduate in 1978, l welcome all of you into the ranks of FDR alumni."
Following that, the Presidents Men and First Ladies a cappella groups presented a special number titled "The Best Day of My Life," as Luigi and Lisa Coppola narrated and urged the graduates to continue to serve their communities and others. The Coppolas were presented with an honorary diploma for their late son, Claudio, who would have been a member of the graduating class.
Next, senior Gregory O'Keefe, sang "God Bless America," and the Class of 2014 honored all military service personnel and veterans in attendance by having them stand and take a bow.
Then, class officers Sabrina Seo, Emily Noonan, Melissa LaBonte and Sarah Izzo presented the Class of 2014 gifts to their school, which included a pair of wireless microphones, a video camera and $500 for ORBIT, the high school yearbook.
Valedictorian Gabrielle Caitlyn Deyo took to the podium then to add some comments on life's lessons.
"The most important lesson I learned was not what I did right or wrong on a test, but to be myself," she said. "And each of you should seek your own individuality to be yourself and create positive outcomes in life."
The sea of green- and gold-clad seniors then proudly received their diplomas before exiting to the strains of Verdi's "Triumphal March from Aida."
The music for the graduation ceremony was provided by the FDR High School Band under the direction of Conductor James Osborn.
See more pictures on our Facebook page:
Facebook Comments