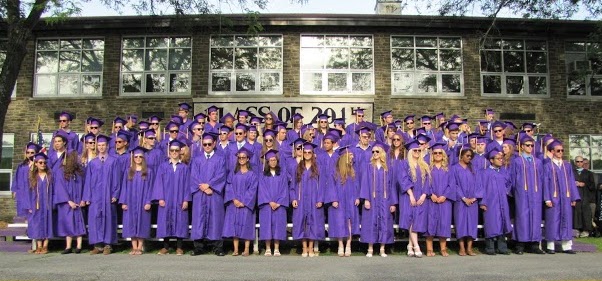 Rhinebeck High School celebrated 85 graduating seniors June 28 with a commencement ceremony dappled in sun and filled with advice for the future—some serious, some whimsical.
Guest speaker Vincent Nugent, retiring chair of the English department, gave the Class of 2014 a Seussian send-off with a rhyming speech that brought the crowd assembled on the high school's front lawn to their feet.
"Allow me some time to bust a rhyme or two—kind of a word sling, let the syllables sing, let your ears ring with semantic seasoning," he began.
Working the last names of each graduating senior into his remarks, he offered praise and observations about the path ahead. "…McCormack, McGettrick, Melley, Mikiej—you've had a great preparation and I allege you've got the edge. With your Rhinebeck education you're solid, you're sound, you're grounded, well-rounded—ready to fledge, to tackle any encounter wherever you wander out yonder."
Board of Education President Deirdre Burns took a more contemplative tone, asking seniors, "With your energy and enthusiasm, your varied talents, your individual stories, challenges, and strengths, what can I learn from you?"
Burns warned that the world is full of "vexing indignities," like poverty and inequality, but also "profound grace." She advised the graduates to use their education to bring more dignity and grace into the world.
Superintendent Joseph Phelan observed that the seniors had already faced tough decisions, but there were even bigger ones in their future: "You have entered your own era of hard choices," he said, advising the graduates to confront those challenges knowing that their potential for success is "exciting and limitless."
Top honors for the year went to twin brothers Brandt and Alexander Slayton, whom class officer Nurual Afsar described as the "dynamic Slayton duo."
Brandt, the valedictorian, shared insights from his successful effort to hike all 46 Adirondack high peaks before graduation. Just as in hiking, he noted, the path in life is often difficult, and it requires passion to succeed.
"After setting goals, we can't just sit back and hope to achieve them," he told his classmates. "Without a burning desire for that goal, it will likely remain just out of reach."
He also advised that sometimes success isn't possible, so it is important to enjoy the journey along the way. "Don't lose sight of what matters," he added.
Brandt thanked his brother Alex "for being the greatest study partner I could ask for, and for understanding me pretty much all the time."
In his salutatory speech, Alex also expressed gratitude to all the parents. "You have given us the confidence to explore new ideas, knowing you are always behind us. As we now strive toward the future, we hope to make all your efforts worthwhile, a small repayment for your love and time," he said.
Principal Ed Davenport said farewell to seniors with a reminder that their graduation represents a beginning, not an end. But before sending them off for a fresh start, he reminded them of past mischief.
Just a few weeks earlier, all the seniors locked their mobile phones in their lockers and set them to go off at 11:55am, causing some confusion, but also amusement, among the faculty. Davenport said their punishment for the act was to listen to him one last time before graduating.
His words, however, were warm: "Class of 2014, you carry with you our fondest wishes for your happiness and your success."
After a rendition of the alma mater by Julia Alexis, Taylor Dahlem, and Deven Drozdowski, the seniors at last stepped up for their diplomas. With the sun dipping below the trees, their family, friends, fellow students, and teachers showered them with applause and cheers.
See more pictures on our Facebook page:
Facebook Comments