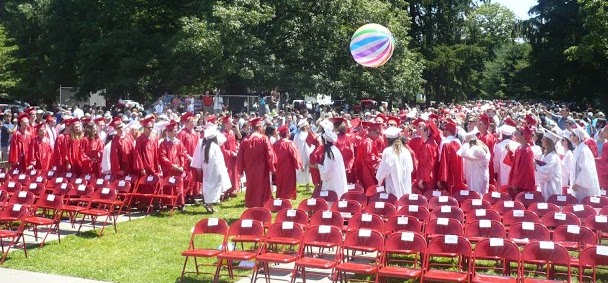 The annual tradition of saying goodbye to high school filled the lawn of Linden Avenue Middle School in Red Hook June 28 with the 108th commencement exercises of Red Hook High School.
Principal Roy Paisley welcomed the 172 graduates and a large crowd of their families and friends before the National Anthem was performed a cappella by three seniors, Adam Jeffreys, Moorea Martin and Patrick Robinson. They were followed by members of the senior chorus singing the alma mater.
Salutatorian Aidan McLaughlin spoke first and reminded the senior class of the many things that had drawn them close over their years in high school together.
"Even though we don't quite know what to expect as we move forward in life, we do know that at the end of it, we'll have plenty of memories, just like we have from Red Hook," she told her fellow graduates.
"As we grow older and move on, we won't measure our time at Red Hook by periods, semesters or even the years that we spent here, but by the people we met, the friends we made and the memories we share," she concluded.
The senior chorus delivered one more selection, "I Stand," arranged by Audrey Snyder and originally recorded by Idina Menzel, to enthusiastic applause.
Next, valedictorian Kaitlin McGovern exhorted her classmates to stay goal-oriented after high school. "No matter where our journeys take us, when we achieve our goals, we must set new ones…Believe in their possibility and be relentless in their pursuit," she said, adding that one important goal should be to "find time to do what you love."
"Commencement really signifies a new beginning so I will carry all of you with me through my journeys. Our time here at Red Hook has prepared all of us for futures with limitless possibilities. Carpe Diem," she said, "Let's make something in this world."
Principal Paisley then addressed the Class of 2014. "Today marks the beginning of the next phase of your life and the end of a 13-year educational journey. During that time you've grown, matured and changed in many ways. Many people, parents, relatives, friends, teachers and others have influenced you, guided you and helped you to get where you are today," he told them.
He then directed the seniors to continue a Red Hook tradition by standing and recognizing all those family, friends and educators who helped them along the way. The class stood, cheered and clapped as they sought out particular audience members for special recognition.
Superintendent Paul Finch first thanked Paisley for his continued service to the district, pointing out that he has been there for almost 30 years, before addressing the graduates. He then noted that this year's graduates represent the end of the "Millenial" generation, one that Time magazine in 2013 had labeled "Generation Me."
"This doesn't jibe with what I've observed," he said. "The Red Hook Millienials sitting here today are confident, upbeat–much more likely to volunteer than my generation. More likely to be civic-minded, more likely to be concerned about the environment, less likely to be concerned about accumulating wealth and they tend not to equate wealth with success."
"The truth is always more nuanced than any label like 'Millenial' or 'teenager' would suggest. And I might add that education…is the only thing that will help you expose the many layers to truth," he said, urging them to continue educating themselves.
Board of Education president and 1985 Red Hook alumna Kelly Mosher also addressed the crowd, recognizing her niece Summer Mosher as one of the graduates. She advised graduates to take joy in the world around them when things get difficult, and noted that she had found that most problems are temporary or insignificant by stopping to look at nature.
"I hope you all appreciated going to a high school where you could look out your classroom windows across the playing fields and see the humble Catskill Mountains silhouetted against the sky. I've always thought that was one of the most beautiful views around. And there is beauty like that all around if you will only look for it.…I can't help but think it will make your problems feel smaller and convince you that life is indeed good," she said.
After these remarks, diplomas were handed out and the class of 2014 shifted the tassels on their caps to signify their graduation. Then, they followed International Baccalaureate Degree coordinator and social studies teacher Michael McCrudden as he marched down the center aisle playing the bagpipes in what has become the traditional graduation recessional.
See more pictures on our Facebook page:
Facebook Comments