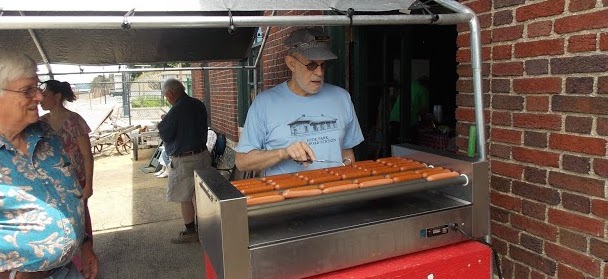 Ever since the King and Queen of England visited Hyde Park in 1939, the annual June picnic at the historic Hyde Park train station has featured the renowned "hot dogs" that were part of that initial celebration with President Franklin Roosevelt and his wife, Eleanor.
For the 75th anniversary of the visit and the 100th anniversary of the station itself, the Hudson Valley Railroad Society invited guests to the station June 21 to join them for the afternoon picnic, with Trustee R. Denny Evaul handling the grill.
The menu was not quite as elaborate as it was for the royal visit, but there were plenty of free hot dogs and lemonade to go around for the 50 or more visitors who stopped by to get a historical perspective from Trustee Ralph Gabler and several of the more than two dozen society members.
"Grand Central Station celebrated its 100th anniversary last year," Gabler told the Observer, "and 2014 is our special centennial year and the 75th anniversary of the King and Queen's visit to Hyde Park."
Pictures and memorabilia of the royal visit dot the walls of the train station, which is now maintained by the volunteer members of the railroad society. One of the framed letters on the station wall is from Queen Elizabeth's secretary, thanking the society for inviting the Queen Mother back for her 100th birthday in 2000. At the time, her age and waning health did not allow her to travel; she died in 2002.
"Today's picnic is one of several events we will hold this year," Gabler said, "and we will have a 4th of July centennial celebration at noon on Independence Day." Other events scheduled for this year include Hobo Night on Sept. 22, the Halloween Ghost Train Night on Oct. 27 and the Polar Express Night on Dec. 22.
The train station is open to the public on Saturdays and Sundays from noon to 5pm during the summer and Monday evenings from 6-9pm. At these times, the society's railroad buffs answer questions for visitors and show them around the several train and historic displays throughout the building. New members are currently being sought; anyone interested can reach the society at www.hydeparkstation.com or by contacting Jeff Armstrong at 845-229-8562.
Facebook Comments