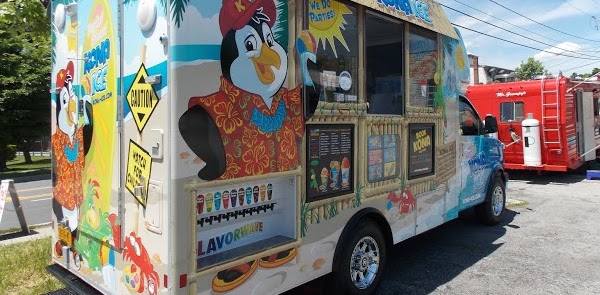 The Hyde Park Chamber of Commerce's opening session of its First Sunday Food Truck Festival went off without a hitch in June, and the second session is scheduled for this Sunday, July 6, on Route 9 at the former site of Hyde Park Motors, opposite Town Hall.
June's opening festival got things off to a good start, and chairperson Paul Chernevet is hoping that July's event will be bigger and better.
"We expect more participation this month and right through the summer," he said, "and we're hoping that the idea will prove successful and enjoyable for everyone."
To enhance the Chamber's chances for success, Chernevet has incorporated several vendors from the Saturday Farmers' Market, which is held every Saturday during the spring-fall season in the Town Hall parking lot.
"So we have something new, something borrowed and something old, and we're hoping the blue skies and sun will help to make it a worthwhile venture," added Chernevet.
The Chamber expects at least 12 vendors this month and looks forward to continued growth through October. The festival runs from 12 noon to 7pm. In addition, several sidewalk vendors who have supported the Famers' Market are expected to join in.
Sidewalk vendors with specialty products are charged $50 for a space at the site. At the opening Sunday event, in addition to three vendors from the Farmers' Market, there was an additional tent set up, selling clothing. Any vendor interested in participating should contact Paul Chernevet at 229-9336 for more information.
Chernevet said the Chamber does not want "flea market" type vendors, but welcomes those who sell a variety of first-line products. On site last month were pie sales, pickle and dressing products and floral arrangements.
Dot Chernevet, also a Chamber member and working in her own booth selling flower arrangements, indicated that proceeds from the Food Truck Festival will assist the Chamber's town beautification programs.
"We have done a great deal for beautification in general, including holiday lighting and banners, and this will help fund our efforts," she said.
Rondout Savings Bank is the primary sponsor for the venture, assisting the Chamber with publicity and maintenance details.
Rich Barager, Rondout Sales and Marketing Coordinator, said that the bank was glad to be involved because "we get our name around the community and we want to give back to the community in any way we can, and this seems like a great way to do it!"
While enjoying a tasty food truck meal or doing some specialty shopping, visitors to the venue can enjoy a Sunday music treat courtesy of "The Bill and Rico Show," playing classic oldies in their entertainment tent on site.
Facebook Comments