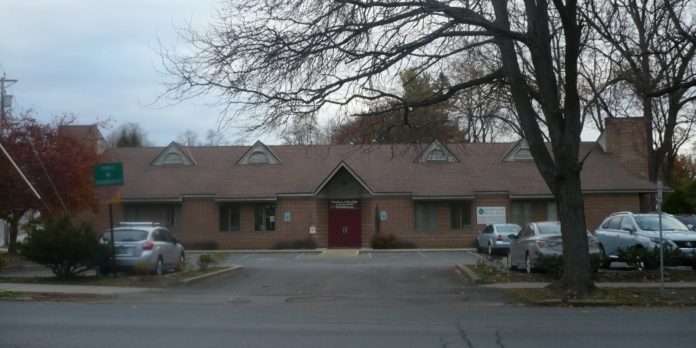 The Rhinebeck village planning board has requested that Daniel Colnaghi, owner of 47 W. Market St., appear before the board to address unauthorized changes to his property's site plan.
Zoning enforcement officer John Fenton documented recent unauthorized changes in a May 14 letter to Colnaghi. They include the addition of a gazebo, the absence of screening structures around a dumpster, picnic benches in a designated parking area and unauthorized outdoor lights.
The property houses a mental health counseling facility that was the focus of much neighborhood consternation last year.
In response to the ZEO's letter, Colnaghi's attorney Jeffery Martin requested a private meeting with Fenton and village attorney Richard Olsen. But on June 17, the planning board rejected the request, wary of impacting ongoing litigation.
"No side deals, no backroom meetings," agreed Fenton.
Colnaghi has an active lawsuit against the village over an eviction order issued in January for two of the three counseling services.
Fenton wrote the original order last year, claiming that the services do not conform to the zoning code. The zoning board of appeals upheld the order in January and gave the two agencies, Hudson Valley Mental Health and Lexington Center for Recovery, 60 days to relocate.
Colnaghi then filed an Article 78 proceeding, used to appeal decisions by local or state agencies, in February. According to Olsen, the article 78 lawsuit is before the state Supreme Court and the court has allowed the two counseling services to continue operating on the property pending the outcome of the suit.
Olsen told the Observer, "The site issues at 47 W. Market Street and the litigation are two completely separate issues."
The village is facing a separate article 78 lawsuit from George Banta, owner of the Beekman Arms and Delamater Inn, over planning and zoning board of appeals decisions related to the Rhinebeck Village Place development, a hotel, spa, and bistro planned for 46 W. Market St.
Olsen said that briefs in that suit will be submitted to the state Supreme Court on July 18.
Facebook Comments