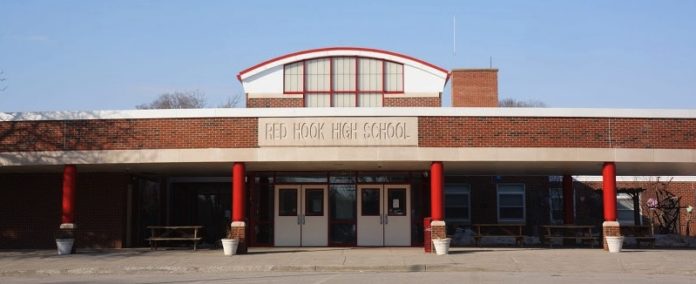 The Red Hook School District is saying good-bye to three longtime teachers who are retiring this year. And the woman who made school meals more than palatable is also taking her leave.
Among the teachers who are retiring, Amy Cornwall-Robinson taught music in Red Hook for 35 years. At various times across those years, she taught in each of the three school buildings, with students of all ages. Her classes included general music and elementary, middle and high school chorus, AP music theory and vocal jazz ensemble.
"I went into teaching music because of the joy it brings to me and to others," she told the Observer.
She added, "But what I most loved about teaching here is the students themselves…Not only is there talent here in Red Hook, but there are very nice students with supportive families. For that, I will forever be grateful."
In retirement, she is looking forward to continuing to perform in theater or a vocal group and to continue her involvement at St. John's Reformed Church in Upper Red Hook, as well as traveling and spending more time with family.
Greg Rafferty taught K-12 physical education and coached in the district for 26 years. He is currently head coach for boys and girls cross country and for both boys track and girls modified basketball. In the past, he has worked with the wrestling program, including coaching modified wrestling.
He said he couldn't separate the two things he loved about teaching: the kids and the staff.
"We have a very wonderful community and I was privileged to raise my kids here. The people I worked with were the absolute most wonderful educators on the planet. If I was any good, it's because any good idea I had I probably stole from somebody else," he said.
He said he looks forward to continuing to coach in retirement and helping out with educational programs at the Maritime Museum in Kingston.
Mary Paccione is also retiring this year after teaching 4th grade for 21 years.
And at the Board of Education meeting June 25, Superintendent Paul Finch announced the resignation of Clara Wittek, director of food services since 1999.
"She has really been committed to making sure that our kids have access to nutritious lunches and she has made every effort to work on farm-to-school initiatives and connect with our garden programs. She's really been sort of on the cutting edge and made Red Hook's program something other schools look to as an exemplar…She'll certainly be missed," he said.
Director of Operations Perry Sheldon told the board that in the last year he had invited directors from other county districts for luncheon meetings in Red Hook and they were always very impressed with the quality of the food. They assumed, he said, that the luncheons were a special effort by the cafeteria staff.
And, he added, "I'd say, 'It wasn't a special thing for [Clara] to make this food. This is the food that our students are eating.'"
"Clara is truly an asset we will miss," he said.
Facebook Comments