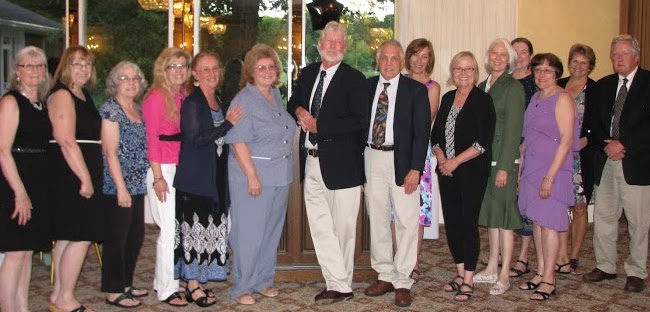 Nineteen teachers and staff, from the elementary schools to FDR High School, are retiring this year from the Hyde Park Central School District.
They were honored June 19 at a dinner held by the Hyde Park Teachers Association at Christos in Poughkeepsie.
Of the 19, two were teachers whose time spent in classrooms totals 80 years.
Edward Doyle taught fifth grade at Ralph R. Smith Elementary for 45 years.
"What I loved most about teaching all of the different subjects, was when I could see the 'light of understanding' flash across a student's face, and they could walk away knowing they 'got it'," he told the Observer.
Asked what he would miss most about teaching, Doyle replied, "The camaraderie I felt from all of the people I worked with: custodians, office staff, aides, special area teachers, classroom teachers, and administrators."
In retirement, Doyle said, he is "looking forward to having time to do all of the thing I have been putting off for the past few years."
Vicki Evans taught at North Park Elementary for 35 years. On her time with the school district, Evans said, "I loved working with so many children with so many levels of ability and interests. I most loved teaching [English Language Arts] and math! Children are incredibly clever and often just need their confidence strengthened to show their true abilities!"
Evans said she was privileged to work with her colleagues and would miss them, as well as the "smiles on children's faces."
In retirement, she looks forward to spending time with her family, as well as "doing some traveling, working with crafts, and relaxing with some great books!"
Beth Richardson taught reading at North Park Elementary for 22 years. She said she most loved watching her students' progress in reading levels.
Asked what she would miss most about teaching, she told the Observer, "I will miss having an impact on the education of young children and watching them grow into young adults."
In retirement, Richardson said she looks forward to traveling and visiting her children and grandchildren.
The following teachers and staff are also retiring from the district this year:
FDR High School: Joanne Dederer, math, 29 years; David Grover, science, 24 years; Margaret Kremer, special education, 24 years; Alfred Massa, art, 20 years; Paul Delucia, technology, 15 years; Earla VanKleeck, math, 6 years.
Haviland Middle School: Amy Kletter, 6th grade teacher, 18 years; Nancy Feig, 6th grade teacher, 13 years; Peter Nelson, special education, 13 years; Joanne Gannon, 6th grade teacher, 11 years.
Netherwood Elementary School: Susan Joseph, 20 years; Candace Walsh, 17 years; Patti Stalker, art, 14 years (also at North Park Elementary).
North Park Elementary: Diane Hoying, special education, 5 years.
Violet Avenue: Sue Hawkins, physical education, 28 years.
District-wide: Edith Stration, music, 24 years.
Facebook Comments