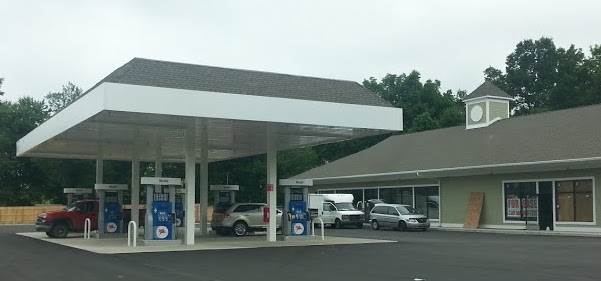 After months of anticipation, the new Mobil station on Route 199 in Milan is still on hold.
But the onsite Dunkin' Donuts onsite opened Saturday.
At the Milan Planning Board meeting July 9, Scott Parker of CPD, representing the Mobil Chestnut Mart, applied to amend the business' site plan.
"Why aren't you open yet?" the board wanted to know right off the bat.
Parker explained that the store has received a temporary certificate of occupancy, but that they are still waiting on the state's Certificate of Authority, which will allow them to collect sales tax. Also, they need to obtain a liquor license in order to sell beer at the establishment.
"We were all pushing very hard to get this thing open by 4th of July, and we hit it construction wise," Parker said. But, he added, "we have to have [the certificate] in our hands before we can open."
Parker said that the state DOT permit has been closed out following the removal of a planter near the free-standing Mobil sign by Route 199. "The sign is allowed to be in the right-of-way; however, any kind of permanent planter base is not," he explained.
The board and Parker then discussed amendments to the site plan.
One is a required "litter barrier" — in the form of a wire fence, with no height specification — that separates the parking lot from the ponds behind the store, which are classified as state Department of Environmental Conservation wetlands. The fence should catch stray garbage and prevent it from entering the water.
Originally, Chestnut Mart was going to reuse an 8-foot-high chain link fence that used to stand in front of the property in order to cut costs. But Parker told the board they would now like to use a 4-foot fence. The board agreed that black, vinyl-coated chain link fencing would be least "visually intrusive."
Parker also explained that the store needs to add a dumpster enclosure, but the original site plan lists that feature as a masonry structure, and they would prefer to use chain link with some kind of privacy slats of perma-hedge or wood, due to drainage concerns in that area.
The board did not specify a particular material for the enclosure, but they granted permission for both site plan amendments.
"We all look forward to buying a cup of coffee at this place," said board member Nathanial Charny, in closing.
Facebook Comments