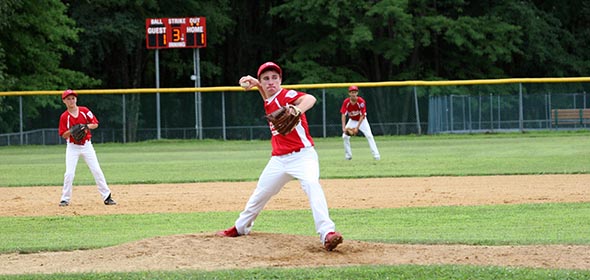 The tournament season for Red Hook and Rhinebeck's Little Leagues has come to a close, but not before a combined Red Hook/Rhinebeck Junior team gave it their all.
In the District 17 tournament, the (14/15) team — one of a few inter-town combo squads — lost the opening game to Fishkill, 7-2, on June 21, but stayed alive for a while in the single-loss bracket, beating Pleasant Valley, 5-4, on June 25, and Dover, 14-4, on June 28.
They then lost 13-3 to Lagrange on July 1, one win away from the semifinal.
"I thought this season was great," said Rhinebeck Little League commissioner Ken Newman. "We've had decreasing numbers every year. But the kids come out, they really do their best, and they do a super job. The parents do a super job. We didn't have a thousand kids go out there, but some made the All-Star teams. They try their best and they play their heart out."
Facebook Comments