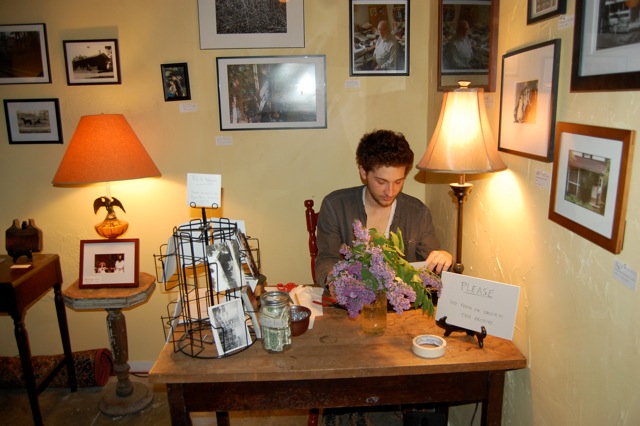 Kazio Sosnowski, (seated in the photograph) who is graduating from Bard College this month with a major in photography, has put together an amazing collection of artifacts, photographs, documents and video clips representing over two hundred years of Barrytown history, from the late seventeen hundreds to the present. With a combination of great imagination, creativity, and enthusiasm, Sosnowski has brought to life aspects of the history of this quiet little hamlet on the Hudson River where he has been living while going to college.
The archive includes a combination of materials from local collections, his own photographs, and wonderfully wrought replicas of 19th century tools used in the Hudson River ice making industry which he made in a Bard metal shop.
He has worked very hard on this project, creating his own displays and walls dividing the exhibition into two separate rooms reminiscent of a 19th century home. In addition, there is a third room devoted to a continuous display of video clips of Barrytown residents telling their unique stories of the hamlet.
Sosnowski says he sees the archive, which is the result of three years of research, as representing Barrytown history through the various historical items and the stories they tell. He considers these items pieces of art—"accidental art" as he calls them—which to him are more than just items representing the factual history of Barrytown.
The exhibition is open from 10am to 6pm through Tuesday, May 17th. It is in a building behind and to the right of the Bard gym. Click here for directions.
Facebook Comments