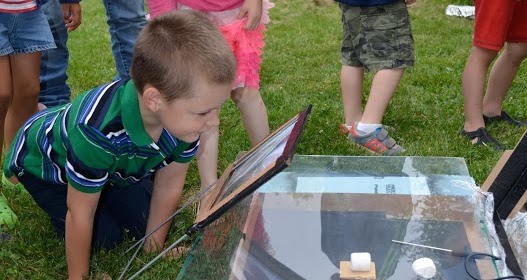 A new solar installation funded by the Green Mountain Energy Sun Club is up and running at Bard College.
Bard partnered with the Radiant Store of Rensselaer, N.Y. to install the solar PV-thermal hybrid system, which utilizes solar energy for both hot water production and grid power. The 32 photovoltaic panels are positioned on the roof of the college's South Hall to produce renewable electricity, which, depending on conditions, will either be used to directly heat hot water or provide power to the building, according to a Bard news release.
In a dedication ceremony June 24, college officials flipped the switch on the 9 kW installation, which was funded by a $35,000 donation from the Sun Club. The Sun Club is a program that allows the energy company's residential customers and employees to donate solar technology to nonprofits.
Also on hand to help commemorate the day were youngsters from the Bard Community Children's Center, who participated in solar-related activities, including making homemade solar cookers from old pizza boxes.
"I spend a lot of time trying to educate college students about sustainability," said Laurie Husted, Bard College sustainability manager, in the news release. "So it was delightful to spend the day with the 4-year-olds from the Children's Center as they learned about solar energy. We hope that they'll bring some of what they learned back home to share with their parents."
Facebook Comments