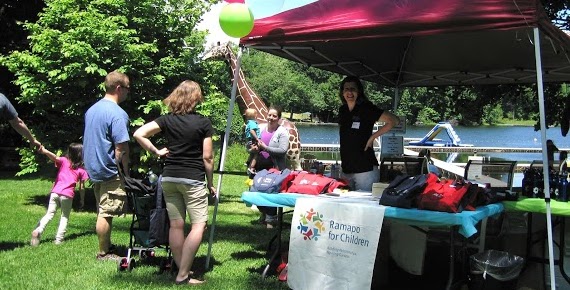 "All children seek the same things: to learn, feel valued, and experience success."
This is a guiding principle of Ramapo for Children, a non-profit tucked into 250 acres of woods in Rhinebeck near Lake Sepasco.
Ramapo provides training and adventure-based retreats for students, educators, and community groups year round all with the goal of serving children who face obstacles to learning.
Starting as a camper, a child may then advance to the teen leadership program, then the internship program, and ultimately the Staff Assistant Experience, a year-round residential transition-to-independent-living program for young adults 18 to 25 years old who have social, emotional or learning challenges.
Ramapo began as a summer camp for children with special needs in 1922, and the summer camp continues. Children with special needs ages 6 to 16 enjoy a variety of typical camp activities in a therapeutic environment, with a one-to-one camper-to-staff ratio.
During a "Community Weekend" in early June, the public was invited to explore Camp Ramapo, which includes access to Lake Sepasco, an outdoor pool, an 11,000-square-foot gym, a ropes course, science center, reading room, vegetable garden, hiking trails, and even a livestock corral.
CEO Adam Weiss remarked, "The campus is beautiful, but I like to think that the real story is what happens on the campus."
On campus, Ramapo just dedicated two new buildings June 26 for use by school groups and community organizations. Thomases Hall, dedicated to Bob and Jean Thomas, the former Camp Ramapo director and his wife, is a residential space for staff members. The Susan McAdam Pavilion, dedicated to the former board member and counselor, is a multipurpose meeting space with snack bar, lounge area and wireless Internet access.
"These buildings epitomize Ramapo's philosophy and approach," Ramapo Chief Executive Officer Adam Weiss said at the dedication ceremony, according to a news release. "They provide a space for adults to communicate, collaborate, and develop a toolbox of strategies to help children experience success."
Inga McKay is the Coordinator of Community, Parent & Alumni Support, and like the rest of the staff and counselors, she exudes a lot of joy as a result of her work.
"Over the summer, we serve over 500 children ages 6 to 16 with various degrees of special needs, and we have a staff of over 500, as well. That includes counselors, supervisors, specialty counselors, and general staff. So when our employees have days off, Rhinebeck benefits from their business," she told the Observer.
During the year, local businesses and organizations have also benefited from the volunteer or work efforts involving Ramapo's youth. McKay explained, "Once they really master their work experience here, they will look for off-campus volunteer opportunities or job opportunities. We have one young adult who just transitioned to her next step: she spent the year at Taste Budd's Café in Red Hook."
The feedback from the community has been nothing but positive.
"Students from Ramapo have volunteered at the Dutchess County SPCA over the years and have helped make a difference for homeless animals," said Volunteer Coordinator Sue Stives. "We truly appreciate when they are at the shelter or working in our thrift shop. It's a great partnership for us, and for the animals in our care."
Chrissa Pullicino, Manager of External Communications at Omega Institute, said, "Volunteers from the Ramapo youth group assisted Omega with some campus projects last fall. They had great enthusiasm, and we hope to see more of them in the future."
Betty A'Brial, of the Red Hook United Methodist Church, recalled the assistance of Ramapo youth at the church's food pantry. "They were very helpful in our weekly unloading of food delivery into the storeroom, which is a lot of work. Their cheerful attitude made them fun to have around, and certainly made our task easier," she said.
The work of Ramapo for Children is made possible by program fees, partnership with various foundations and corporations, fundraising, and grants. For more information, visit www.ramapoforchildren.org.
Facebook Comments