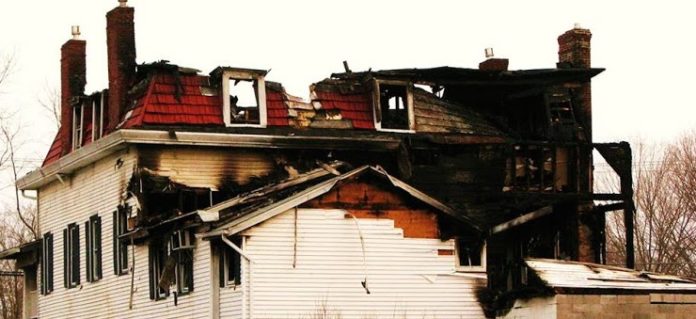 4-month probe of late-night fire that destroyed historic building ends in indictment of Darrin Buffa.
The owner of the well-known Historic Blue Store Restaurant in Livingston was arrested and charged with arson July 23 in connection with the March 15 fire that destroyed much of the building.
Darrin Buffa, 40, of Craryville, the owner and operator of the restaurant and catering service, was indicted by a grand jury in Columbia County for one count of third-degree arson, a felony, after a four-month investigation of the late-night fire, according to a joint announcement by Columbia County District Attorney Paul Czajka and the State Police.
Buffa was arrested by members of the state police Bureau of Criminal Investigation, arraigned before Judge Richard Koweek in Columbia County Court and released on $60,000 bond, according to the news release.
Buffa's attorney, Deitrich P. Epperson of New York City, told the court Buffa is a life-long Columbia County resident who turned himself in when notified by mail of his impending arrest, according to local media reports.
Contacted by the Observer, Epperson would only say, "We're taking the case to trial."
The Livingston Fire Department responded to the March 15 fire at approximately 1:45am, according to a police report, and 18 other fire departments also went to the scene, at the intersection of Routes 9 and 31. No injuries were reported, but it took firefighters five hours to get the blaze under control.
Buffa, who grew up in Livingston, told the Observer shortly after the fire that it appeared to have started on the second floor, but the cause was still undetermined. He also acknowledged that the restaurant had been for sale for more than a year, but, he added, that didn't stop him and his wife, Tara, from putting their heart and soul into it.
"Something as old as that building needs a lot of care," he said. "It was a task to keep everything going. We're now missing a big part of our lives."
The Historic Blue Store Restaurant was originally the home of the Walter Tryon Livingston family in the early 1800's. According to Buffa, it was a hotel for 150 years before it was turned into a restaurant.
Buffa said the previous owners had done the main renovations and he and his wife had upgraded some kitchen equipment and the banquet hall. Much of that was destroyed in the fire.
The four-month-long fire investigation, which concluded July 18, involved assistance from the Livingston Fire Department, the Columbia County Fire Coordinators Office, the New York State Office of Fire Prevention and Control, the state Department of Financial Services, as well as numerous insurance companies and other state agencies, the police report said.
A third-degree arson charge carries a maximum sentence of three years in state prison.
Facebook Comments