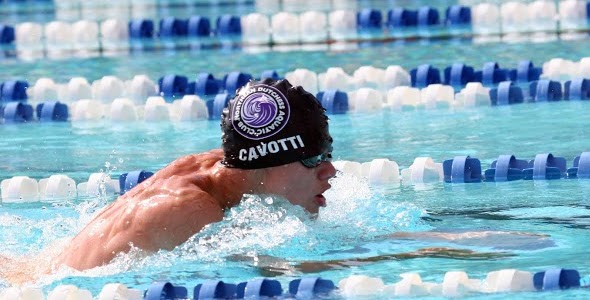 The Duchess Ulster Swimming Organization season came to a close on July 26 in the league championships held at the Ulster County Pool Complex in New Paltz — and the meet was even wetter than normal.
Competing teams — including Red Hook, Rhinebeck, Hyde Park, Zena, Rosendale, Kerhonkson, Hurley, and New Paltz — had to contend with rain, the kind that had interrupted and postponed several meets already in 2014.
After winning their first two meets, the Red Hook Sea Raiders burned through the end of the season, going four of four in their final meets, and saw what would have been their most serious test — a matchup with DUSO juggernaut and 2013 champion New Paltz — canceled.
The Sea Raiders keyed Hurley on July 12, Kerhonkson on July 14, Rhinebeck on July 16, and Hyde Park on July 19.
"The season was good was good, we were undefeated," said Red Hook head coach Kevin Storres. "We got cancelled at New Paltz – the meet was thunderstormed out. We were only into the 11-12 backstroke when it got cancelled, so it was an unofficial meet at that point. In this format (at the DUSO championships, compared to New Paltz) we're at a disadvantage."
At the championships, Storres was realistic about dealing with the big guns of New Paltz, far and away the largest swim program in DUSO.
"Today, I think we're looking at second place. New Paltz is really deep. They scored three relays in the top six in the beginning of the day. We're swimming well, we're setting some records, but we're outnumbered two to one," he said.
Rhinebeck's Manta Rays ended the season in a bit of a tailspin, dropping three of three before heading to the DUSO championship. After scoring wins over Hyde Park and Rosendale to open the season, the Rays lost to New Paltz on July 12, to Red Hook on July 16, to Hurley on July 19, and to Kerhonkson on July 21, in a meet that had been postponed from July 9.
Kayla Weckesser, a coach for Rhinebeck, was happy with how things shook out.
"The season so far has been good. Today (at the DUSO championship) we've seen a lot of great times. All the 8 and unders have improved a lot," Weckesser said.
Facebook Comments