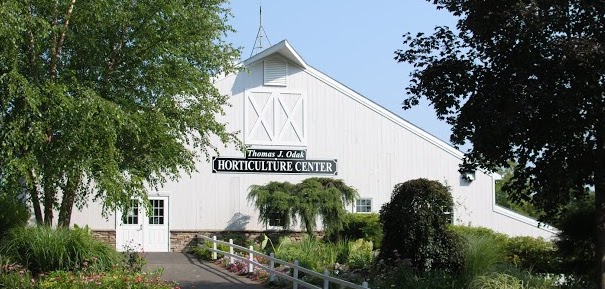 Longtime Dutchess County Fair manager Thomas J. Odak, Sr. was honored last week with the dedication of the Horticulture Building at the fairgrounds in his name.
"We're very grateful. It was quite a dedication and the family is very happy with it," Stephen Odak, one of his three sons, told the Observer on behalf of the family.
Odak, a former Milan town supervisor, was fairgrounds manager for 28 years and retired in 2006; he died last December at the age of 93 at the family farm in Milan.
"His vision is everywhere on this fairgrounds…We all—the board of directors–felt [the horticulture building] was his favorite project and thought it very fitting to name it after him," Dutchess County Agricultural Society President Fred Battenfeld told the Observer after the dedication ceremony July 23 at the society's summer business meeting.
At the meeting, held at the Odak building, three other fair employees were given lifetime fair passes in recognition of their many years of service: Annan Allen, of Rhinebeck, who helped run the horse show for over 40 years; Dorothy "Dottie" Butts, of Pleasant Valley, sheep show secretary for 49 years; and retired First Sergeant with the New York State Police Eddie Moore, who coordinated security at the fair for over 25 years.
Five high school graduates were recognized with scholarships: The 2014 DCAS Scholarship, including $8,000 paid over four years of college, was awarded to Andrew Coon of Amenia, a graduate of Webutuck High school. Two DCAS Awards of Recognition, including $500 toward academic studies, went to Christiana Psichas of Hyde Park and Claire Burnett of Salt Point, both graduates of FDR High School. And state agricultural society scholarships were awarded to Colleen Smith of Pine Plains and Jacob Angell, of Clinton Corners.
Facebook Comments