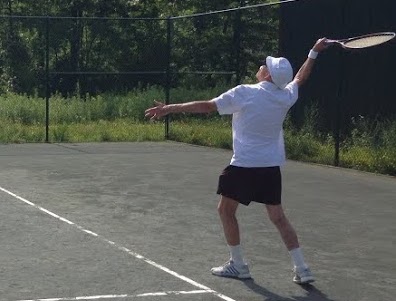 By David Akst
At the Rhinebeck Tennis Club, senior foursomes patrol the clay with a confidence and finesse that suggests grace more than it does age.
So nimble were they on a warm recent morning that they were asked about the use of performance-enhancing drugs. Two of the players fessed up: Dick Grant, 81, owned up to taking Aleve, while John Rathjen, 72, admitted to using Advil.
Each year, as the months get warmer, senior citizens of northern Dutchess County migrate to the Rhinebeck tennis courts. Grant and Rathjen, both Rhinebeck residents, are among those who are regulars at the club.
Club owner and manager Bob Myerson said that there are between 50 and 60 regular senior players who turn up on various mornings during the week.
The ages of the players in the senior group, which has no official name, range from 72 to 91, the youngest being Rathjen and the oldest being Dr. Donald Krawitt, 91, of Rhinebeck, a skilled player known for his dangerous slice. Asked about a winner's purse, Krawitt chuckled and insisted that the only rewards are "the thrill of victory and the agony of defeat."
The group doesn't keep track of doubles wins, but "the thrill of victory" is pervasive. Around 9am, the players began a warm-up, and despite the preponderance of knee braces, there was plenty of motion on the courts. Krawitt said any lack of agility is made up in well-placed shots and topspin.
One of the newest additions to the group is Karen Aune, a retired school psychologist from Kingston who has played tennis on and off for more than 40 years. She said she joined to get back into the game, after coaching tennis years ago at a local high school, and she said she loves the group.
Richard Shrader, a 77-year-old Rhinebeck resident, has been playing the game for 65 years and is regarded as a master of shot placement by his peers. For him and many of the group's participants, the game is their primary hobby and a great way to stay in shape and remain active in retirement. And the club's one indoor court and five outdoor ones serve as a social setting, where many of the seniors have made close friendships.
Now in its 28th year, having opened in 1986, the Rhinebeck Tennis Club is located on Salisbury Court, behind the Center for Performing Arts on Route 308. Membership costs vary from $30 for a day pass to $120 for a monthly all week individual pass for the entire outdoor season, which ends Oct. 31.
Facebook Comments