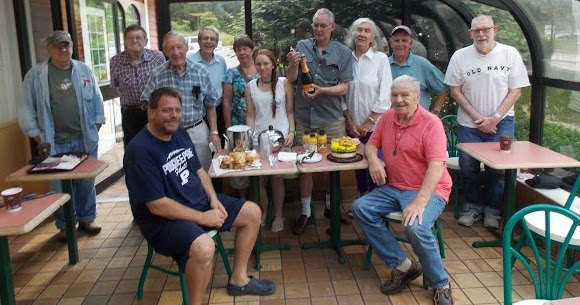 A band of local residents were nearly ready to celebrate the silver anniversary of their discussion group at the Hyde Park McDonald's, but the Golden Arches establishment put a temporary hold on their deliberations when renovations began July 1 at the Route 9 fast-food restaurant.
McDonald's is now closed and will resurface by November as a newly constructed and expanded edifice. The change caused the Monday morning group to interrupt what has been a regular get-together to start the week since 1991.
"It won't stop us from meeting, however," said Carole Chambers, one of regulars, "since we will move south to the McDonald's across from Marist College until they finish the rebuilding here."
Chambers broke into the informal group of mostly retired men 15 years ago and has met with them every Monday since 1999. Dottie Hart and Marist professor Christine Vertullo are also now part of the group.
"Our sessions include discussion of topics on history, sports, local gossip, and current events," said Chambers, "and we have lots of fun sharing thoughts and ideas, usually in a friendly manner."
Pat Gaudio, a retired IBMer and long-time Hyde Park resident who's been with the group since it started, injected a little humor, saying, "We don't want any facts because they tend to ruin a good argument!"
Brother Don Kelly of Marist College added, "It is just a great place to meet and discuss current events, while getting everyone away from their iPads and smart phones for a couple of hours on Monday mornings over a cup of coffee and a snack."
Kidding Gaudio, he said, "Once in a while, I bring the Catholic New York newspaper to the site and Pat reads it. It is his religious instruction for the week!"
On the occasion of their final session at the Hyde Park McDonald's on June 30, retired teacher Angelo Targia cracked open a bottle of champagne in celebration, and the group feasted on a chocolate cake, coffee, and orange juice.
They were also advised by McDonald's manager Alex Mitchell that they could share the tables and chairs, which were to be discarded when the restaurant closed.
Several members decided to take a table and chairs home for their own patios as a reminder of the good times under the glass patio of McDonald's.
Plans for the new building, which will be constructed slightly closer to Route 9, were displayed on the wall of the service area, and Mitchell hopes to see construction completed by November so his loyal discussion group can get back on track toward that silver anniversary, just a little more than a year away.
Facebook Comments